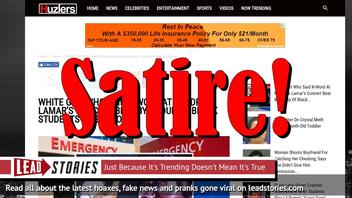 Was a white girl named "Delaney" beat up by black students at her school for being invited on stage at a Kendrick Lamar concert and singing the n-word which was part of Lamar's lyrics? No, that's not true: the story originated on a site that identifies itself as "fauxtire" and which regularily posts satirical articles making fun about current events involving racism. The story is not true, it did not happen.
It appeared in an article published by Huzlers on May 25, 2018 titled "White Girl Who Said N-Word At Kendrick Lamar's Concert Beat By Group Of Black Students At School" (archived here) which opened:
ALABAMA - Days after Kendrick Lamar's performance at the Hangout Festival in Alabama in which a white girl, identified as "Delaney", was booed off stage for singing the n-word, it is being reported that Delaney was beat by a group of students at her high school in Gulf Shores.

According to authories at the school, Delaney was beat by a group of around 8 black students. Authorities are also speculating the beating had something to do with Delaney saying the n-word on stage with Kendrick Lamar.
There recently was a real incident involving a white woman identified as "Delaney" singing the n-word after bing invited on stage by Lamar:
A white woman has been booed at a Kendrick Lamar gig for singing the N-word on stage. The rapper invited the woman, who identified herself only as "Delaney", to sing M.A.A.D City during his set at the Hangout Festival in Alabama.
But the part about the high-school attack is not real: Huzlers styles itself as a "fauxtire" website and carries a disclaimer at the bottom of each page:
Huzlers.com is the most infamous fauxtire & satire entertainment website in the world. If it's trending on social media you'll find it here!
According to Splinter News the site is run by Pablo Reyes and David Martinez and according to Buzzfeed Reyes is involved with several other fake news websites. They tend to shy away from political stories, opting instead to write for a more "urban" audience, with stories about rappers, criminals and celebrities.
We wrote about huzlers.com before, here are our most recent articles that mention the site: