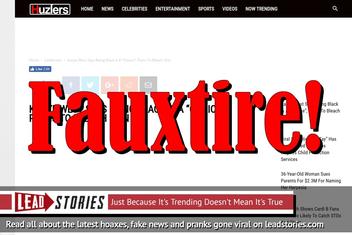 Did Kanye West announce plans to bleach his skin because "Being black is a choice"? No, that's not true. West has made some remarkable statements over the past week but this one was invented by a faux satire ("fauxtire") website. It is not real.
The story originated from an article published on May 5, 2018 by Huzlers titled "Kanye West Says Being Black Is A "Choice"; Plans To Bleach Skin" (archived here) which opened:
CALABASAS - "Being black is a choice". Yup, that is what rapper Kanye West said in a small street interview outside his Calabasas home Saturday afternoon. Only another absurd statement that can be added to Kanye's already large collection.

In the midst of the controversy surrounding Kanye and his absurd racial statements and support for Trump, Kanye is definetly on a role. "If y'all don't like being black because you're a victim of a racism, then you shouldn't have chose to be black, i made the wrong decision so I'm going to turn white", said Yeezy, who then went on to explain he was going to bleach his skin. We're not sure if Kanye is only looking i impress Trump but it might certainly work.
The story was poking fun of Kanye's statement that slavery was a choice and Snoop Dogg's reply via Instagram:
Huzlers styles itself as a "fauxtire" website and carries a disclaimer at the bottom of each page:
Huzlers.com is the most infamous fauxtire & satire entertainment website in the world. If it's trending on social media you'll find it here!
According to Splinter News the site is run by Pablo Reyes and David Martinez and according to Buzzfeed Reyes is involved with several other fake news websites. They tend to shy away from political stories, opting instead to write for a more "urban" audience, with stories about rappers, criminals and celebrities.
We wrote about huzlers.com before, here are our most recent articles that mention the site: