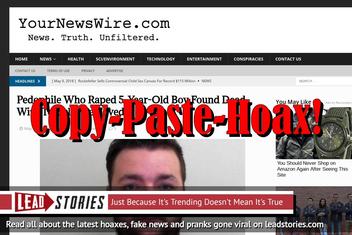 Was 22-year-old pedophile Daniel Davey found dead in his cell with his testicles removed? No, that's not true and has been debunked before but the hoax just resurfaced on another website that likes to embellish real news stories with unsupported facts and blood-pressure raising headlines. Although in this case it seems to be mostly copy pasta.
The copied story was published published on May 8, 2018 by YourNewsWiree under the title "Pedophile Who Raped 5-Year-Old Boy Found Dead With Testicles Removed" (archived here). It opened:
A unapologetic pedophile described as "systematic" and "evil personified" has been found dead in his prison cell after his testicles were removed and his injuries went untreated.

Daniel Davey, a 22-year-old McDonalds employee, was sent to prison in late 2017 after being caught raping a 5-year-old boy. Following a police investigation it emerged that Davey had also raped another child aged six.

On December 1 the pedophile was ordered to serve six-and-a-half years in prison at HMP Bullingdon, in Oxfordshire, UK -- a Category B & C prison that has housed some of Britain's most notorious criminals, including former children's TV presenter and convicted child abuser Rolf Harris.
Snopes already debunked the story, which originally appeared on another website:
A npedophile was found dead in his prison cell after his testicles were removed and his injuries went untreated. Mostly False In December 2017, a 21-year-old British man named Daniel Davey received a six-and-a-half year sentence for having sexually abused a five-year-old boy: A 21-year-old man, who used to live in Bradford on Avon, has been sentenced to six and a half years in jail after admitting to sexually assaulting a young boy.
YourNewsWire has published several hoaxes and fake news articles in the past so anything they write or publish should be taken with a large grain of salt. Their Facebook page "The People's Voice" recently lost its verification checkmark according to a report from MMFA.
The Terms of Use of the site also make it clear they don't really stand behind the accuracy of any of their reporting:
THE PEOPLE'S VOICE, INC. AND/OR ITS SUPPLIERS MAKE NO REPRESENTATIONS ABOUT THE SUITABILITY, RELIABILITY, AVAILABILITY, TIMELINESS, AND ACCURACY OF THE INFORMATION, SOFTWARE, PRODUCTS, SERVICES AND RELATED GRAPHICS CONTAINED ON THE SITE FOR ANY PURPOSE.
The site was profiled in the Hollywood reporter where it was described as:
Your News Wire, a 3-year-old website of murky facts and slippery spin, is published by Sean Adl-Tabatabai and Sinclair Treadway -- a Bernie Sanders supporter in 2016 -- out of an apartment in L.A.'s historic El Royale.
RationalWiki described it as:
YourNewsWire (styled as YourNewsWire.com[1]) is an Los Angeles-based clickbait fake news website known for disseminating conspiracy theories and misleading information, contrary to its claimed motto ("News. Truth. Unfiltered").[1]
A while ago we also reported that YourNewsWire had rebranded itself as NewsPunch by changing its domain name in an apparent effort to evade filtering/blocking. It appears the site has changed back to it's old name in the mean time but you can still see the NewsPunch name in the contact email address in the footer.
We wrote about yournewswire.com before, here are our most recent articles that mention the site: