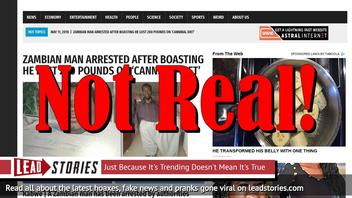 Was a 43-year-old man from Kabwe, Zambia named Mwamba Tembo arrested after boasting of losing 280 pounds on a "cannibal diet"? No, that's not true, the story was made up by a website that invents fake stories about bizarre crimes and sex acts for entertainment purposes. It did not happen for real.
The cannibal story originated from an article published on May 11, 2018 by World News Daily Report and was titled "Zambian man arrested after boasting he lost 280 pounds on 'cannibal diet'" (archived here) which opened:
Kabwe | A Zambian man has been arrested by authorities after boasting on social media that he had lost 280 pounds by eating a "human meat-only" diet.
Mwamba Tembo, 43, claims he was overweight until his witch doctor advised him to go on a three-month human bone broth regime.

Tembo shared on social media his progressive weight loss, never divulging that he indulged in human bone broth until the end of his 3-month-long regime.

Tembo allegedly told the police he did not murder anyone but bought human bones for cheap from local gravediggers who took them from "fresh corpses only."
However the photos of the man pictured appeared on a Nigerian website in 2017 in a story about a former sumo wrestler who showed off his weight loss and it didn't mention Zambia or cannibalism:
This is incredible. A man identified as Emeka Okeke, popularly known as Baba Mutu, has shared pictures to show his astonishing weight loss. The former obese man who is based in Enugu state - is said to have been involved in Sumo wrestling many years ago before he decided to reduce and shed weight in order to improve his health.
The website World News Daily Report is a well known satire website specialized in posting hoaxes and made up stories. The disclaimer on their website is pretty clear about that even though you have to scroll all the way down the page to find it:
World News Daily Report assumes all responsibility for the satirical nature of its articles and for the fictional nature of their content. All characters appearing in the articles in this website - even those based on real people - are entirely fictional and any resemblance between them and any person, living, dead or undead, is purely a miracle.
It is run by Janick Murray-Hall and Olivier Legault, who also run the satirical Journal de Mourréal, a satirical site spoofing the (real) Journal de Montéal. Very often their stories feature an image showing a random crazy mugshot found in a mugshot gallery on the internet or on a stock photo website superimposed over a background of flashing police lights or crime scene tape.
Articles from the site are frequently copied (sometimes even months or years later) by varous fake news websites that omit the satire disclaimer and present the information as real.
We wrote about worldnewsdailyreport.com before, here are our most recent articles that mention the site: