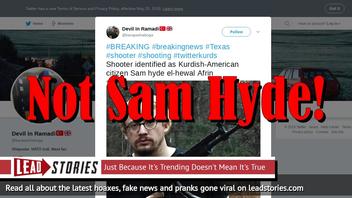 Was right-wing comedian Sam Hyde the shooter at Santa Fe High School in Santa Fe, Texas where several people were killed today by a gunman? No, that's not true. The same hoax keeps appearing over and over again whenever there is a mass casualty event. The shooting did happen, but the perpetrator was definitely not Sam Hyde.
But trolls are already accusing right-wing comedian Sam Hyde of being the suspect, it is a strange in-joke that has been going on for years.
Sam Hyde is not the perpetrator of a mass shooting. But whenever a shooter strikes and the news reports casualties, trolls race to name Hyde as the culprit. In the worst cases, authorities have been tricked into giving Hyde's name to the press.
According to the New York Times the shooter is already in custody:
The school district announced a lockdown, and several law enforcement agencies were on the scene.
You can read the latest "Sam Hyde" tweets here and see the hoax unfold in real time: