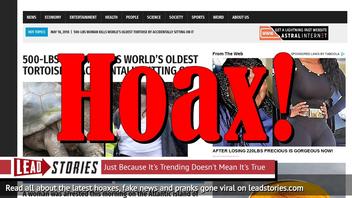 Was 47-year old Margaret Sanders arrested on Saint Helena for killing the world's oldest tortoise by sitting on it with her 500 (or 520) pound weight? No, that's not true: the story was invented by a website that makes up stories about fake crimes and bizarre sex acts for entertainment purposes. It did not happen.
The story originated from an article published on May 18, 2018 by World News Daily Report titled "500-lbs woman kills world's oldest tortoise by accidentally sitting on it" (archived here) which opened:
A woman was arrested this morning on the Atlantic island of Saint Helena for accidentally causing the death of the oldest known animal in the world, a 185-year old tortoise named Jonathan.

The famous Seychelles giant tortoise lived on the grounds of Plantation House, the official residence of the island's Governor, and belonged to the government of Saint Helena since 1882.

According to the Saint Helena Police Service, 47-year old Margaret Sanders was visiting Plantation House with her family when her legs began to hurt and she needed to rest.

The 520-lbs woman began looking for a place to sit down, and unfortunately confused the venerable animal with a decorative bench and decided to sit on it.

Ms. Sanders' weight was too important for the tortoise's carapace and it immediately began cracking up, crushing the animal underneath.
The woman in the picture is 49-year-old Linda Ann Jenns from Kent who killed a jogger with her car but claimed to be too fat for prison:
He told the court: "She is grossly overweight, morbidly obese and since the incident has put on even more weight. She is a person for whom a prison sentence would be extraordinarily difficult and I don't think I exaggerate when I say she might not get through it."
According to specialized natural science publication The Sun tortoise Jonathan was doing fine as of a few days ago:
THE world's oldest tortoise is still having sex daily aged 186. And lothario Jonathan has no trouble finding sexual partners despite being blind. Vet Joe Hollins revealed the randy reptile's bed-hopping antics to end rumours he is now celibate. He said: "He has a tremendous libido.
The website World News Daily Report is a well known satire website specialized in posting hoaxes and made up stories. The disclaimer on their website is pretty clear about that even though you have to scroll all the way down the page to find it:
World News Daily Report assumes all responsibility for the satirical nature of its articles and for the fictional nature of their content. All characters appearing in the articles in this website - even those based on real people - are entirely fictional and any resemblance between them and any person, living, dead or undead, is purely a miracle.
It is run by Janick Murray-Hall and Olivier Legault, who also run the satirical Journal de Mourréal, a satirical site spoofing the (real) Journal de Montéal. Very often their stories feature an image showing a random crazy mugshot found in a mugshot gallery on the internet or on a stock photo website superimposed over a background of flashing police lights or crime scene tape.
Articles from the site are frequently copied (sometimes even months or years later) by varous fake news websites that omit the satire disclaimer and present the information as real.
We wrote about worldnewsdailyreport.com before, here are our most recent articles that mention the site: