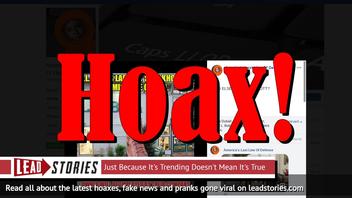 Did outdoor company L.L. Bean CEO Hammond C. Heis ban employees from being registered firearms owners because Michelle Obama is their largest stockholder? And are there legitimate calls for a boycott over this? No, that's not true, a fake meme is being spread by a satirical left wing Facebook page in order to trick conservatives into boycotting a company where one of the directors supported Donald Trump's campaign for president.
The fake boycott was being fuelled via a meme published on June 24, 2018 by Facebook page "America's Last Line Of Defense" (archived here) with a caption that read:
WHO ELSE SMELLS BOYCOTT?
The caption on the image read:
L.L. Bean's largest stockholder is Michelle Obama. Last week the CEO, Hammond C. Heis, announced that no registered gun owner will be employed by their company.
All of that is nonsense. The real CEO of L.L. Bean is Stephen Smith according to Bloomberg:
L.L.Bean Inc. manufactures and markets apparel and outdoor equipment. The company offers shirts, sweaters, pants, outerwear, sleepwear and robes, jeans, sweatshirts, shorts, long underwear and base layers, swimwear, and blazers for men; and outerwear, shirts, sweaters, sleepwear and robes, pants, fleece tops and sweatshirts, jeans, skirts and dresses, underwear and long underwear, blazers, shorts, and swimwear for women.
And the heiress of the founder of L.L. Bean was personally thanked by President Trump for her support last year after the company got into a controversy because one of it's directors had supported Trump's campaign with a large donation:
It isn't just automakers and drug companies getting pulled into the political ring. The retail industry on Thursday was once again dragged into the crosshairs, after President-elect Donald Trump sent out a tweet thanking L.L. Bean heiress Linda Bean for her support. Thank you to Linda Bean of L.L.Bean for your great support and courage.
That does not exactly sound like the kind of company Michelle Obama would be a shareholder of. No surprise, because the Facebook page that spread the meme describes itself as:
About
Nothing on this page is real. It is a collection of the satirical whimsies of liberal trolls masquerading as conservatives. You have been warned.

Impressum
Use the force and the truth shall reveal itself. Just not here. Ever.

Products
Good Old Fashioned Liberal Troll Provided Fantasy presented as comedy to the left and a social experiment to the right. Please don't hurt the Trumpanzees. they'll be gone in a few years back to the shadows from whence they came and we'll be back to trolling Tea Turds.