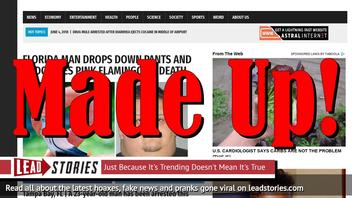 Did a 23-year-old man named Eduardo Jose Raphael Sanchez sodomize a pink flamingo to death in Tampa Bay's Busch Gardens? No, that's not true: the story came from a site that makes up stories about bizarre crimes and sex acts for entertainment purposes, it is not real and did not happen. The story dates back from last year but was recently reposted to Twitter.
The story originated from an article published by World News Daily Report on September 26, 2017 titled "Florida man drops down pants and sodomizes pink flamingo to death" (archived here) which opened:
Tampa Bay, FL | A 23-year-old man has been arrested this morning at Tampa Bay's Busch Gardens after he allegedly proceeded to sexually assault a pink flamingo in front of horrified bystanders.

Shocked witnesses saw Eduardo Jose Raphael Sanchez, 23, drop down his pants and jump into the flamingo pen before capturing Skittles, an 8-year-old male flamingo, and attempting to perform anal sex on the poor animal.

"My 4-year-old pulled on my shirt pointing to the man saying: Mommy! Mommy! Look at that man, he's riding the flamingo!" reported one eyewitness.
The man pictured with the story is actually a convicted drug smuggler from Texas, not a Florida animal rapist:
A Texas man caught in 2014 with possessing nearly 16 pounds of heroin hidden in two fire extinguishers on a commercial bus passing through Baton Rouge was sentenced to four years in federal prison. Juan Jesus Vasquez, 27, of McAllen, Texas, pleaded guilty last year to possession with intent to distribute heroin and was sentenced Friday by U.S.
The website World News Daily Report is a well known satire website specialized in posting hoaxes and made up stories. The disclaimer on their website is pretty clear about that even though you have to scroll all the way down the page to find it:
World News Daily Report assumes all responsibility for the satirical nature of its articles and for the fictional nature of their content. All characters appearing in the articles in this website - even those based on real people - are entirely fictional and any resemblance between them and any person, living, dead or undead, is purely a miracle.
It is run by Janick Murray-Hall and Olivier Legault, who also run the satirical Journal de Mourréal, a satirical site spoofing the (real) Journal de Montéal. Very often their stories feature an image showing a random crazy mugshot found in a mugshot gallery on the internet or on a stock photo website superimposed over a background of flashing police lights or crime scene tape.
Articles from the site are frequently copied (sometimes even months or years later) by varous fake news websites that omit the satire disclaimer and present the information as real.
We wrote about worldnewsdailyreport.com before, here are our most recent articles that mention the site: