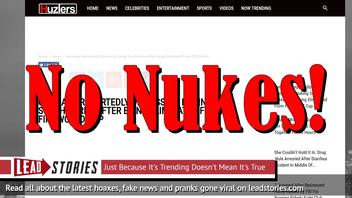 Is Germany planning to attack South Korea with nuclear weapons after losing to that country in the FIFA World Cup yesterday? No, that's not true: Germany doesn't actually have nuclear weapons and the story was invented by a "fauxtire" website for entertainment purposes. It is not true.
The story originated from an article published by Huzlers on June 28, 2018 titled "Germany Reportedly Discussing Nuking South Korea After Being Eliminated From FIFA World Cup" (archived here) which opened:
RUSSIA - Hours after Germany was eliminated by South Korea from the FIFA World Cup in the group stages, it is being reported that German authorities are discussing a nuclear attack on South Korea.

According to reports, Germany leaders are discussing whether they should attack South Korea with nuclear weapons or not. Germany was eliminated from the FIFA World Cup today and will not make it past the group stage, which is shocking considering they hoisted the World Cup in 2014 in Brazil. Germans could simply not handle the embarrassment and are looking to punish South Korea.

"We cannot accept this" says German president Frank-Walter Steinmeier, "especially losing to a loser country like Korea, we must act immediately, even if it means nuclear attacks", finished Walter.
Only the United States, Russia, Great Britain, France, China, India, Pakistan and North Korea have officially declared they have nuclear weapons, with Israel being suspected of having them.
The last known German effort to develop nuclear weapons was ended by a sabotage action in 1943:
The Norwegian heavy water sabotage ( Bokmål: Tungtvannsaksjonen , Nynorsk: Tungtvassaksjonen ) was a series of operations undertaken by Norwegian saboteurs during World War II to prevent the German nuclear weapon project from acquiring heavy water ( deuterium oxide), which could have been used by the Germans to produce nuclear weapons.
Huzlers styles itself as a "fauxtire" website and carries a disclaimer at the bottom of each page:
Huzlers.com is the most infamous fauxtire & satire entertainment website in the world. If it's trending on social media you'll find it here!
According to Splinter News the site is run by Pablo Reyes and David Martinez and according to Buzzfeed Reyes is involved with several other fake news websites. They tend to shy away from political stories, opting instead to write for a more "urban" audience, with stories about rappers, criminals and celebrities.
We wrote about huzlers.com before, here are our most recent articles that mention the site: