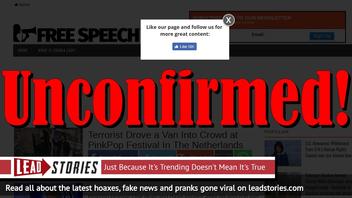 Was a man who drove a van into a crowd at Dutch Pinkpop festival on June 18, 2018 a terrorist? That's far from certain despite what an unreliable and frequently islamophobic website claims in their headline about the news.
The story originated from an article published on June 18, 2018 by Free Speech Time titled "Terrorist Drove a Van Into Crowd at PinkPop Festival In The Netherlands" (archived here) which opened:
PinkPop Festival 'One dead and three injured' after hit-and-run van ploughs into crowd at Bruno Mars gig in Limburg.
The incident took place in the early hours of Monday morning during the "Pinkpop" festival that was held in Limburg province in the southern Netherlands on June 15-17.Dutch police said they arrested a man who had driven a van into people at the music festival. "The police have found the white van that was involved in the incident on the Menshegger street on Monday morning.
The rest of the article is completely unconnected to the events in the Netherlands and just rambles on about the evils of immigration.
What the story doesn't mention is that the driver of the van actually called the police to turn himself in according to local media reports and a police press conference earlier today. No information about the man's identity or motive has been released as of the time of writing.
A man has handed himself in to police after a van ploughed into a group of people near a Dutch music festival, killing one of them. The 35-year-old man who died in the early hours of Monday was a local festival volunteer, organisers said.
Definitely calling it a terrorist attack and linking it to migrants in the rest of the article is pure speculation, especially given two key differences with earlier vehicle-based terror attacks in Europe and elsewhere:
It happened at 4.00 in the morning.
The driver turned himself in several hours later.
This doesn't fit the pattern of a terror attack but sounds more like a drunk-driving incident. Several earlier examples can easily be found of drunk drivers getting in accidents and then turning themselves in hours later hoping the alcohol level in their blood has gone down sufficiently so it can't be detected anymore. We're not saying this is 100% certain what happened (and we're not putting it in our headline like that), we'll have to wait for the investigation to finish before even thinking of doing that.
Please don't get your news from sites that put things in their headline that aren't confirmed facts yet
We wrote about freespeechtime.net before, here are our most recent articles that mention the site: