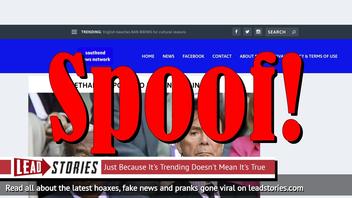 Will a new Lethal Weapon movie be released in 2019 after Danny Glover and Mel Gibson were seen watching tennis at Wimbledon? No, that's not true: a satirical website revived a joke made on Twitter in March 2018 based on a 2017 photo and turned it into an article. There is no truth to the story.
The story originated from an article published by The Southend News Network on July 2, 2018 titled "LETHAL WEAPON 5 to hit cinemas in 2019" (archived here) which opened:
A spokesperson for Warner Bros. has confirmed that Lethal Weapon 5 will be hitting cinema screens in Summer 2019.

Speculation has been rife since the two actors were spotted together watching tennis together at Wimbledon last week.

The studios Executive VP Of Film Development Of Movies Marshall Kapowovitz told Southend News Network that he was 'delighted' at the prospect of Danny Glover and Mel Gibson reuniting once again.

He said: 'These are fantastic times for the movie industry - both stars are already in physio and raring to go with filming scheduled for fall, or leafy droppy time as you Brits call it.'
But the picture illustrating the story was actually from 2017 and showed Cliff Richard and Trevor McDonald watching tennis:
Cliff Richard and Trevor McDonald looked sullen as they watched the tennis This is Cliff's second year back at Wimbledon after he missed 2015 tournament Andy Murray lost in quarter-finals leaving British hopes resting on Konta Sir Cliff, 76, is a huge tennis fan and a long-standing patron of Wimbledon Cliff Richard and Trevor McDonald looked sullen as they watched the tennis on the day Andy Murray crashed out of Wimbledon.
Twitter user Tim Bolton made a joke about the picture in March 2018:
The new Lethal Weapon looks fucking dreadful. pic.twitter.com/zCrClCnVbb

-- Tim Bolton (@timbolton1) March 16, 2018
We found no news or trailers about an upcoming Lethal Weapon 5 movie anywhere.
The Southend News Network is a satirical site pretending to be a news organisation by the English coast in Southend. They have a disclaimer on their about page that reads (in part):
Southend News Network was originally started in October 2015 with no real aims or objectives in mind other than to add a satirical/spoof-like touch to issues that people are passionate about in Southend On Sea. Above all else, SNN is all about having the occasional 'dig' at the powers that be, as well a slightly bigger and more frequent 'dig' at certain elements of local media!
Several of their stories have been mistaken for real news in the past and the site was recognized by the local authorities as an "official news outlet".
We wrote about southendnewsnetwork.net before, here are our most recent articles that mention the site: