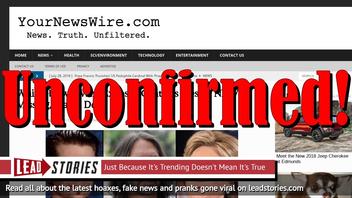 The alleged connection between NXIVM and Hillary Clinton has been a popular conspiracy theory for weeks since a Seattle man claimed he saw Clinton aide Huma Abedine and her ex-husband and former congressman Anthony Weiner at a sex cult "mixer" in 2007. Ben Szemkus also said he met Stormy Daniels, the porn star who says she had sex with Donald Trump in 2006, at the party. This, predictably, led to online speculation that Daniels might be connected to the Clintons.
The conspiracy fire has grown hotter with new reports that the "whistleblower" has gone missing and is "feared dead." Details about why the writers believe Szemkus is "feared dead" are scare. This writer labels the reports "unconfirmed" because of that lack of detail and the failure of anyone to report Szemkus as missing to local police. Seattle police and the FBI are not investigating his disappearance. Of course, those agencies could be part of the "conspiracy."
We are still working on this.
The story originated from an article published on July 26, 2018 titled "Whistleblower Who Exposed Clinton's Ties To NXIVM Missing, Feared Dead" (archived here) which opened:
The whistleblower who exposed the Clinton's ties to child sex cult NXIVM has gone missing and is feared dead, according to reports.
Users on social media only saw this title, description and thumbnail:
The whistleblower who exposed the Clinton's ties to child sex cult NXIVM has gone missing and is feared dead, according to reports.
YourNewsWire has published several hoaxes and fake news articles in the past so anything they write or publish should be taken with a large grain of salt. Their Facebook page "The People's Voice" recently lost its verification checkmark according to a report from MMFA.
The Terms of Use of the site also make it clear they don't really stand behind the accuracy of any of their reporting:
THE PEOPLE'S VOICE, INC. AND/OR ITS SUPPLIERS MAKE NO REPRESENTATIONS ABOUT THE SUITABILITY, RELIABILITY, AVAILABILITY, TIMELINESS, AND ACCURACY OF THE INFORMATION, SOFTWARE, PRODUCTS, SERVICES AND RELATED GRAPHICS CONTAINED ON THE SITE FOR ANY PURPOSE.
The site was profiled in the Hollywood reporter where it was described as:
Your News Wire, a 3-year-old website of murky facts and slippery spin, is published by Sean Adl-Tabatabai and Sinclair Treadway -- a Bernie Sanders supporter in 2016 -- out of an apartment in L.A.'s historic El Royale.
RationalWiki described it as:
YourNewsWire (styled as YourNewsWire.com[1]) is an Los Angeles-based clickbait fake news website known for disseminating conspiracy theories and misleading information, contrary to its claimed motto ("News. Truth. Unfiltered").[1]
A while ago we also reported that YourNewsWire had rebranded itself as NewsPunch by changing its domain name in an apparent effort to evade filtering/blocking. It appears the site has changed back to it's old name in the mean time but you can still see the NewsPunch name in the contact email address in the footer.
We wrote about yournewswire.com before, here are our most recent articles that mention the site: