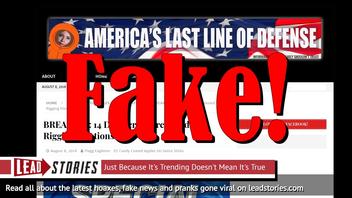 Did 14 of the 17 Democrats who won elections in California's primaries on August 7, 2018 get arrested for election fraud and were their victories stripped? No, that's not true, the entire thing was made up by a left-wing satire site seeking to discredit conservatives and Trump supporters by goading them into sharing fake news. The report is not real.
The story originated from an article published by America's Last Line of Defense on August 8, 2018 titled "BREAKING: 14 Democrats Arerested For Rigging Elections" (yes, spelled like that and archived here) which opened:
14 of the 17 Democrats who won elections in California's primary yesterday have had their victories stripped. They are now sitting in a federal jail on charges of election fraud. Democrats being removed means their Republican counterparts automatically advance to the finals in November.

The 14 include one white guy, 4 Muslims and 9 Hispanics. Most of them are women. How they defrauded the election system is unknown, except for the Hispanics. They sent their illegal friends and families in vans all across the state to vote, sometimes a dozen times or more.
Users on social media only saw this title, description and thumbnail:
The blue wave was a wash.
The phrase "elections in California's primary" linked to a Google translate link for the phrase "That didn't happen, Comrade." which would translate it into Russian.
There were several other hints in the article indicating it was fake, such as the note in the header saying "Information you probably shouldn't trust" and the category the article was in which read "Candy Coated Apples On Satire Sticks".
The site also came with a clear satire disclaimer at the bottom of each article:
sat·ire ~ˈsaˌtī(ə)r
noun
the use of humor, irony, exaggeration, OR ridicule to expose and criticize people's stupidity or vices, particularly in the context of contemporary politics and other topical issues.
If you disagree with the definition of satire or have decided it is synonymous with "comedy," you should really just move along.
The owner and main writer of the site is self-professed liberal troll Christopher Blair, a man from Maine who has made it his full time job to troll gullible conservatives and Trump supporters into liking and sharing his articles. He runs several other websites, including potatriotpost.us, dailyworldupdate.us and nofakenewsonline.us. Sometimes he is also known under his nickname "Busta Troll". A second man working on the sites is John Prager as revealed in this earlier story we wrote.
Articles from Blair's sites frequently get copied by "real" fake news sites who often omit the satire disclaimer and any other hints the stories are fake. Blair has tried to get these sites shut down in the past but new ones keep cropping up and he keeps knocking them down.
If you see one of his stories on a site that does not contain a satire disclaimer, assume it is fake news. If you do see the satire disclaimer it is of course also fake news.
We wrote about americaslastlineofdefense.org before, here are our most recent articles that mention the site: