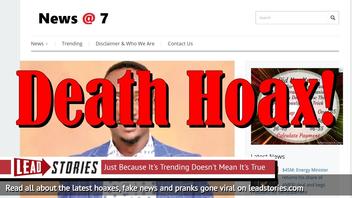 Did actor Salinko from Ghana die in a German hospital after a translation mistake led to him being euthanised? No, that's not true: the story was made up by a satire website related to a network of fake news websites. It is not real.
The story originated from an article published on July 10, 2018 by News@7 titled "Ghanaian Actor dies after publicity stunt went wrong - News@7" (archived here) which opened:
Ghanaian comic actor Salinko who staged a publicity stunt in Germany has died due to language barrier.

The German doctor who speaks only German did not understand the actor's request and mistook 'Stunt' as a vaccine that kills men.

According to the doctor, he told the actor was in for an assisted suicide and went ahead to administer the vaccine after the word STUNT sounded like ASSISTED SUICIDE in German language.
The social media description of the story was even more absurd:
He confirmed the news
In German, "assisted suicide" is translated as "Sterbehilfe", while "stunt" is "Kunststück". Not words that sound like they are easily confused. And the correct medical term for "vaccine that kills men" is "poison".
The site News@7 shares an Adsense account with jetsanza.com and a Google Analytics account with breaking-cnn.com, two sites that have been linked to or were part of a large network of Ghana-based fake news websites.
The site comes with a satire warning in the footer that was itself copied from a famous hoax website:
sat·ire ~ˈsaˌtī(ə)r
noun
the use of humor, irony, exaggeration, OR ridicule to expose and criticize people's stupidity or vices, particularly in the context of contemporary politics and other topical issues.
If you disagree with the definition of satire or have decided it is synonymous with "comedy," you should really just move along.
We wrote about news7pm.com before, here are our most recent articles that mention the site: