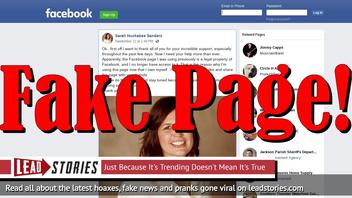 Was the Facebook page of Sarah Huckabee Sanders taken away by Facebook and is it now the "legal property" of Facebook? No, that's not true: a message purporting to be from Sanders was published to an unofficial Facebook page, it is not real.
The story originated from a post published on September 22, 2018 on a Facebook page titled "Sarah Huckabee Sanders" (archived here) which read:
Ok , first off I want to thank all of you for your incredible support, especially throughout the past few days. Now I need your help more than ever...
Apparently, the Facebook page I was using previously is a legal property of Facebook, and I no longer have access to it. That is the reason why I'm using this page now that I own myself.. I urge all of you to go like and share the page with your friends.
Please do this for me, and stay tuned because we have a lot of things coming up very soon.
Thank you!
However the Facebook page in question was only registered (anonymously) four days ago and seems to be mainly used to promote articles on political clickbait website http://conservative7.club. That site was registered only a month and a half ago according to WHOIS data:
DOMAIN INFORMATION
Domain:conservative7.club
Registrar:NameCheap, Inc.
Registration Date:2018-07-31
Expiration Date:2019-07-31
Updated Date:2018-08-11
Status:clientTransferProhibited
Name Servers:seabs14.hostwindsdns.com
seabs13.hostwindsdns.com
According to the "about" tab of the Facebook page it was created on September 22, 2018.
Conservative7.club shares an IP address (104.168.216.5) and an Adsense account (ca-pub-1679009318161387) with conservative7.com, which was also anonymously registered on September 13, 2017 according to WHOIS information but it seems the site is now no longer active. In turn, conservative7.com shares an Adsense account (ca-pub-5463677282937742) with viralmonkey.me.
Those three sites were heavily promoted on the Facebook page "Females For Trump" according to Facebook's CrowdTangle tool. The most recent post on that page is this:
Which is a repost of the video being described in this article:
A Facebook page that is little more than a week old and has connections to a Macedonian fake news network shared a video falsely claiming a group of bikers were coming to Washington, D.C., to rally for Supreme Court nominee Brett Kavanaugh. The mislabeled video has received hundreds of thousands of views and tens of thousands of shares.
It seems unlikely the real Sarah Huckabee Sanders is involved with all of this. Always distrust "official" Facebook pages without the official blue checkmark indicating they have been verified by Facebook.