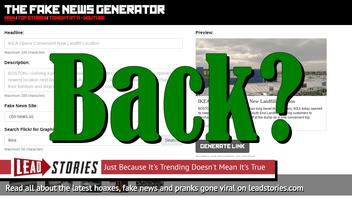 Less than two weeks ago we reported on a network of prank websites centered around thefakenewsgenerator.com being blocked as spam by Facebook. But now it seems the site is gearing up for a restart by using the advanced hacking technique of adding a dash to the domain name in order to get around the filters.
Here is our report on the block imposed against the network:
Recently a rash of new viral fake news stories started turning up on Facebook, all from sites associated with thefakenewsgenerator.com, a site run by a man named Justin Hook. He was profiled by The Daily Dot only a few days ago: Fake news is still a sensitive subject.
The network of prank websites allowed anyone to create a realistic looking fake news article and offered a selection of misleading domain names that could be used to make it look like an article came from real news websites such as CBS News, Associated Press or The New York Times. Each hoax article came with following disclaimer at the top of the page:
You clicked this fake news story. Now make your own!
One of the most popular domain names available to pranksters was cbsnews.us, which is easily confused with the real cbsnews.com.
After Facebook took action it became impossible to share any link on the social network from any of the domains associated with the prank sites. However it appears the creator of the sites, Justin Hook, has found a workaround:
cbs-news.us
According to WHOIS data the domain name was registered via Google's domain registrar on October 1, 2018. Google's service offers .us domain names for $12/year.
During testing we were able to use the new site to create a prank story (although it still seems to be missing styling if you click through to it):
LOS ANGELES - Has the new "King of Fake News" returned? Did dastardly dash in domain deceive detection?
And we were able to post it to Facebook without issues: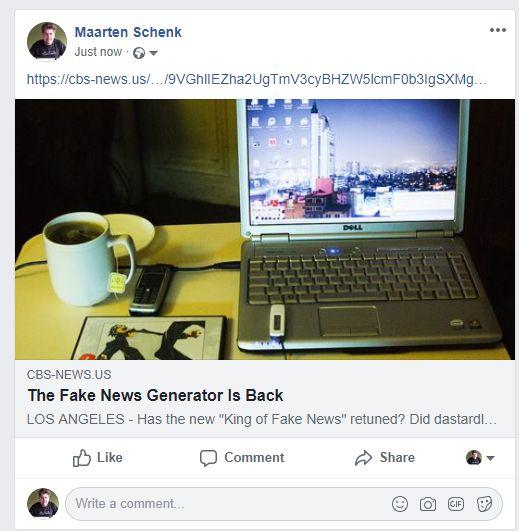 Here is an earlier interview Justin Hook did with The Daily Dot about his network of prank sites:
Fake news is still a sensitive subject. Nearly 70 percent of people were concerned about the credibility of the news and where it comes from, according to a 2018 Edelman Trust Barometer, CNBC reports. People often expressed their concerns about fake news being used as a weapon to trick innocent people on the internet.