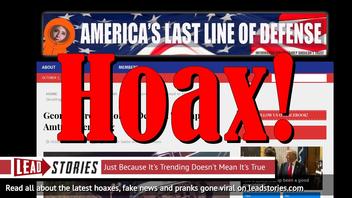 Was George Soros killed in an Amtrak train derailment near Thompson, California? No, that's not true; the news was made up by a liberal satire website that often gets its content copied by fake news websites from Macedonia, omitting the satire disclaimer. Even without that disclaimer the story contains so many obvious hints only a total idiot would believe it. Unless that idiot only saw the headline and decided to share the news anyway, which is what the operators of the satire site hope will happen so their fans can then mock them online. None of it is real.
The story originated from an article published by America's Last Line of Defense on October 7, 2018 titled "George Soros Among 7 Dead In Thompson Amtrak Derailing" (archived here) which opened:
Seven people are dead in the deadly derailing of an Amtrak train in Thompson, California. The train, traveling at over 311 parsecs per Nauticus mile when it crashed, crumpled like an aluminum can, killing the passengers in the first class compartment. Amtrak spokesman, Art Tubolls, told Fox News by email:

"We expect that we're going to have to pay for the six others in first class, but Mr. Soros is the reason for the crash. He demanded the train go twice as fast as normal so he wouldn't be late for an art festival in San Dimas."
Users on social media only saw this title, description and thumbnail so people who didn't click through to the full story might have believed it:
BREAKING - 13 MINUTES
But there is no such thing as "parsecs per Nauticus mile" and the spokesperson "Art Tubbols" does not exist: that name is an anagram for "Busta Troll", the nickname of creator of the site.
The site comes with a clear satire disclaimer at the bottom of each article:
sat·ire ~ˈsaˌtī(ə)r
noun
the use of humor, irony, exaggeration, OR ridicule to expose and criticize people's stupidity or vices, particularly in the context of contemporary politics and other topical issues.
If you disagree with the definition of satire or have decided it is synonymous with "comedy," you should really just move along.
The owner and main writer of the site is self-professed liberal troll Christopher Blair, a man from Maine who has made it his full time job to troll gullible conservatives and Trump supporters into liking and sharing his articles. He runs several other websites, including potatriotpost.us, dailyworldupdate.us and nofakenewsonline.us. Sometimes he is also known under his nickname "Busta Troll". A second man working on the sites is John Prager as revealed in this earlier story we wrote.
Articles from Blair's sites frequently get copied by "real" fake news sites who often omit the satire disclaimer and any other hints the stories are fake. Blair has tried to get these sites shut down in the past but new ones keep cropping up and he keeps knocking them down.
If you see one of his stories on a site that does not contain a satire disclaimer, assume it is fake news. If you do see the satire disclaimer it is of course also fake news.