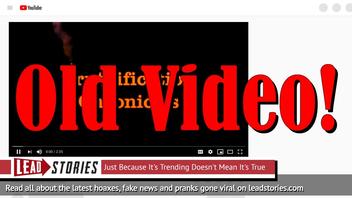 Did Minority Leader Nancy Pelosi describe one of the tactics used by the Democrats during the Brett Kavanaugh confirmation hearings as the "wrap up smear tactic"? No, that's not true: the video actually dates from last year and it shows Pelosi discussing what she calls a tactic used by Republicans.
An example of this claim can be seen in this YouTube video published on October 7, 2018 titled "Pelosi and the WRAP UP SMEAR tactic" (archived here) which had following description:
Pelosi gives us a page from the Democrat playbook. Lie, smear, smear, and lie some more. LINK REFERRED TO IN VIDEO: https://www.c-span.org/video/?c4674689/wrap-smear
The link in the video description goes to this real CSPAN page:
Is she talking about what the Democrats are doing to Trump concerning Russia?
But that is just a user-generated clip of this full video from 2017:
House Democratic Leader Nancy Pelosi says she's very confident of the support she has in her caucus. She also says that while she respects the opinions of her colleagues, the decision about how long...
The relevant part starts around the 26 minute mark at and the full quote as transcribed on the CSPAN site is this:
BECAUSE BASICALLY AT THE END OF THE DAY THAT'S WHAT PEOPLE ARE INTERESTED IN, THEIR REPRESENTATIVE AND WHAT THEIR REPRESENTATIVE IS GOING TO DO FOR THEIR DISTRICT. REPUBLICANS ARE AFRAID OF THAT CONTRAST IN A RACE. BECAUSE THEY'RE GOING TO GO THERE TO BE INVOLVED IN TRICKLED DOWN ECONOMICS, SHUTTING DOWN HOSPITALS AND REST OF IT. SO THEY DON'T WANT THEM TO SEE THAT CONTRAST SO THEY FOCUS ON SOMETHING ELSE. AND IT'S A DIVERSIONARY TACTIC. IT'S A SELF-FULFILLING PROPHET. YOU DEMONIZE -- WE CALL IT THE WRAP-UP SMEAR. YOU WANT TO TALK ABOUT POLITICS. IT'S A WRAP-UP SMEAR. YOU SMEAR SOMEBODY WITH FALSEHOODED AND THEN YOU MERCHANDISE IT AND THEN YOU WRITE IT AND NELL' SAY, SEE, IT'S REPORTED IN THE PRESS THAT THIS, THIS AND THIS SO THEY HAVE THAT VALIDATION THAT THE PRESS REPORTED THE SMEAR AND THEN IT'S CALLED A WRAP-UP SMEAR. NOW I AM GOING TO MERCHANDISE THE PRESS' REPORT ON THE SMEAR THAT WE MADE. IT'S A TACTIC.
From the context it is quite clear she is discussing a tactic she says is being used by her Republican opponents and not (as some on social media have described it) the playbook of the Democrats.