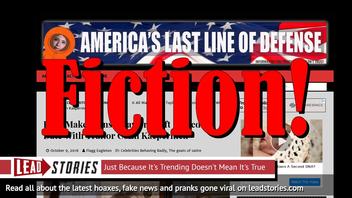 Was Taylor Swift spotted on a date with Colin Kaepernick? No, that's not true: the latest hoax about Swift was just the product of the imagination of a liberal satire weblog that likes to wind up Trump supporters and conservatives with stories guaranteed to get them mad enough so they will like and share them without checking if they are actually true. None of it is real.
The story originated from an article published by America's Last Line of Defense on October 9, 2018 titled "It All Makes Sense: Taylor Swift Busted On Date With Traitor Colin Kaepernick" (archived here) which opened:
Taylor Swift destroyed her career yesterday by coming out to back the Democrat party of losers. Nobody could understand why. Her post on Instagram looked like a leftist cult member wrote it. Freedom of choice and the gays are all well and good, but they don't belong in your job.

Today, the truth has come out. A photographer snapped 14 pictures of Taylor Swift and Colin Kaepernick last night at Klub Karl in downtown San Fransisco. The club is a known socialist hangout. The photographer was spotted and searched and his camera was destroyed but he was able to get a headshot of Swift with his phone, proving she was at the infamous club. The wall behind her is unmistakable.
Users on social media only saw this title, description and thumbnail:
Look at the club she's at. Disgusting.
So we checked out the picture that went with the story. As reported by hard-hitting investigative website E! the picture was taken in New York City where she visited a movie premiere at Alice Tully Hall:
The 28-year-old pop star avoided the red carpet and was spotted leaving the venue through a back door, while she and her beau later rendezvoused outside and headed home
We were even able to geolocate the likely doorway she used on Google Streetview.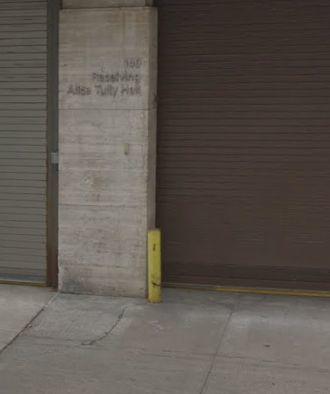 We were also unable to locate a Klub Karl in San Francisco, making the major details of the story impossible. That should come as no surprise though: the site comes with a clear satire disclaimer at the bottom of each article:
sat·ire ~ˈsaˌtī(ə)r
noun
the use of humor, irony, exaggeration, OR ridicule to expose and criticize people's stupidity or vices, particularly in the context of contemporary politics and other topical issues.
If you disagree with the definition of satire or have decided it is synonymous with "comedy," you should really just move along.
The owner and main writer of the site is self-professed liberal troll Christopher Blair, a man from Maine who has made it his full time job to troll gullible conservatives and Trump supporters into liking and sharing his articles. He runs several other websites, including potatriotpost.us, dailyworldupdate.us and nofakenewsonline.us. Sometimes he is also known under his nickname "Busta Troll". A second man working on the sites is John Prager as revealed in this earlier story we wrote.
Articles from Blair's sites frequently get copied by "real" fake news sites who often omit the satire disclaimer and any other hints the stories are fake. Blair has tried to get these sites shut down in the past but new ones keep cropping up and he keeps knocking them down.
If you see one of his stories on a site that does not contain a satire disclaimer, assume it is fake news. If you do see the satire disclaimer it is of course also fake news.
NewsGuard, a company that uses trained journalist to rank the reliability of websites, describes trumpbetrayed.us as:
A website claiming to be satirical that publishes fabricated stories, run by Christopher Blair, a known purveyor of disinformation, that published fake stories about Senator John McCain after he passed away.
According to NewsGuard the site does not maintain basic standards of accuracy and accountability. Read their full assessment here.
We wrote about trumpbetrayed.us before, here are our most recent articles that mention the site: