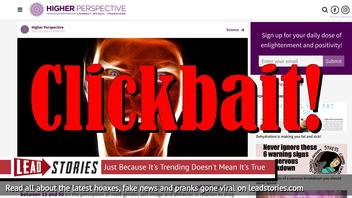 Did 'new' research show that short people are angrier and more violent than tall people? No, that's just a headline put out by some clickbait website citing two pieces of old research that don't actually make any claims about that. The headline is entirely false.
The story originated from an article published by Higher Perspective on September 10, 2018 titled "New research says short people are angrier and more violent than tall people" (archived here) which opened:
Researchers at the Center for Disease Control in Atlanta, Georgia, recently quizzed 600 men aged between 18 and 50 on the perception of male gender, self-image and behavior in relation to drug-taking, violence and crime for a government-led study.

The scientists found that men who feel the least masculine are most at risk of committing violent or criminal acts.

According to the study, men who considered themselves less masculine, also known as "male discrepancy stress," were nearly three times more likely to have committed violent assaults with a weapon or assaults leading to an injury.

A few years ago, a team of researchers at Oxford University also claimed "Short Man Syndrome" is a real thing.
Users on social media only saw this title, description and thumbnail:
Interesting research...
The research may be interesting but it is definitely not "new" for starters. The paper the article cites ("Masculine Discrepancy Stress, Substance Use, Assault, and Injury in a Survey of U.S. Men") already dates from 2015 and it is based on questioning 600 men via an online service (so it is not even 100% certain they actually were men...). None of the questions concerned height and the paper doesn't even use the words "height" or "tall". All it claimed to investigate was something called "masculine discrepancy stress" and the influence it had on substance abuse, assault and injuries. It defined "masculine discrepancy stress" as:
That is, when a man perceives himself to be hypomasculine relative to prevailing societal standards (ie, gender role discrepancy) and believes that others perceive him to be hypomasculine as well, stress may arise from the perceived discrepancy between the individual's subjective level of masculinity and his perception of predominant social mandates (ie, discrepancy stress).
In other words, men who think they are less manly than the accepted norm in society and who think other men are noticing it will suffer from some kind of stress as a result. The paper then goes on to investigate if this makes those men more violent, more accident-prone or more likely to engage in substance abuse.
The clickbait piece then also references a short article from 2014 linking to several news articles about an experiment that showed how lowering the height of someone in a VR experiment increased feelings of paranoia and vulnerability:
"Feeling smaller makes people feel paranoid, mistrustful and more likely to think that people are staring or talking about them, a study by Oxford University finds" (Sarah Knapton, Science Correspondent, The Telegraph, 29 Jan 2014) "Height perception and paranoia - Experiment in virtual reality shows that reducing a person's height
At least this is about height but it doesn't mention violence at all.
So in summary, the article at Higher Perspective has:
Two old pieces of research
One not about height
One not about violence
To go from that to claiming "new" research says something about the relation between height and violence seems like a stretch to us...
And Higher Perspective seems to agree with us that what they are doing is not really scientifc. Right on their disclaimer page it says:
We here at Higher Perspective do not hold backgrounds in medicine or science and anything read on this website should be read with an open mind and taken with a grain of salt. Not every natural cure works for everyone, and if you have any health concerns, consult your physician! If anything, your doctor could help guide you on the best way to treat your ailments with both natural medicine, and maybe some conventional too.
Grain of salt indeed...