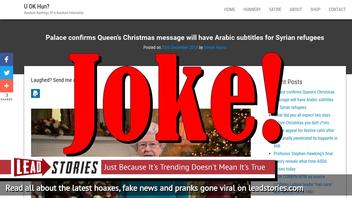 Will Queen Elizabeth II read her traditional Christmas message with Arabic subtitles for Syrian refugees this year? No, that's not true: the story was made up by a British satire website. There is no truth to the story and the screenshot that went with it was digitally created from a still from her 2016 Christmas message.
The story originated from an article published on December 23, 2018 titled " Palace confirms Queen's Christmas message will have Arabic subtitles for Syrian refugees" (archived here) which opened:
A spokesperson for Buckingham Palace has confirmed that this year's Christmas message from Her Majesty The Queen will have Arabic subtitles for the benefit of Syrian refugees who have arrived in the United Kingdom.

He said that they would be added to the broadcast transmission footage, meaning that all viewers will see them regardless of whether or not they are switched on.

He added, 'We want everyone watching the broadcast to feel that they have been embraced by it.'
Users on social media only saw this title and thumbnail so some of them may have thougt it was real:
But the story was posted under the "Satire" category of the blog and the "Campaign For Equal Equality And Inclusive Inclusion For All" mentioned in the article does not exist.
U OK Hun carries a disclaimer on its about page that reads:
Welcome to U OK Hun!

I started this blog and Facebook page because my social awkwardness makes it very difficult for me to be both funny and interesting in real life.

However, I am reasonably good at getting all Billy Big Bollocks on the Internet.

Don't forget to LIKE the U OK Hun Facebook page for the latest updates.

Totes grates babes,

Simon Harris, Editor-In-Chief and CEO of Hun Industries Inc.
We wrote about uokhun.uk before, here are our most recent articles that mention the site: