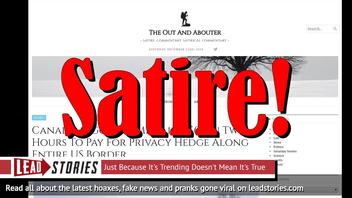 Did Canadians react to the GoFundMe set up to fund a border wall between the United States and Mexico by starting a GoFundMe for a privacy hedge between Canada and the United States and did it raise $6B in two hours? No, that's not true: the news came from a Canadian satire website and went wildly viral. But it was just a joke.
The story originated from an article published by The Out and Abouter on December 21, 2018 titled "Canadian GoFundMe Raises $6B In Two Hours To Pay For Privacy Hedge Along Entire US Border" (archived here) which opened:
In a stunning rebuke of the 46th best president in American history, the United States' northern neighbour shattered numerous crowdsourcing records today, when it raised billions and billions and billions of dollars to plant and maintain a living barrier between themselves and the adjacent idiocracy.

"We'd heard that a bunch of people down in the You-Ess-of-Eh had decided to empty their wallets out for a wall that won't block anything other than half of all escape routes, when their dirty bomb of a president melts through his retaining barrier," explains the man who started the campaign, Tom Candy, of Fewmarket, Ontario.

"So naturally our first thought was: how can we best deal with this shitshow as it unfolds directly beside us, and add a little ever-greenery to a world which, it has to be said, is looking a little bleak right now? The answer was, of course, legalizing marijuana. But with that already having been done, our next thought was: let's plant a privacy hedge."
Users on social media only saw this title, description and thumbnail so some may have thought it was real:
"Well, we'd heard that a bunch of people down in the You-Ess-of-Eh had decided to empty their wallets out for a wall that won't block anything other half of all escape routes, whe...
After all, this actual GoFundMe campaign for a U.S. border wall on the Mexican border collected over $15 million in five days and that one is definitely real:
My name is Brian Kolfage, I have a verified blue check facebook page as a public figure and I'm a Purple Heart Recipient triple amputee veteran. * AFTER DONATING, SIGN OUR PETITION WE NEED 100 million signatures www.WeFundTheWall.com also join our groups on social media  * Please read enti...
But The Out and Abouter has an about page that explains what is going on:
"Non award-winning Canadian satire." - The Globe And Snapchat

"Better than a tuna sandwich with no mayo. Or tuna. Or bread. Better than an empty plate. Is it a nice plate?" The Elephant Seal

"Fake news." The Toronto Supernova

"It's nice to see you writing again." Mom

Not the biggest. Not the funniest. Not the most acerbic, or sarcastic, or brutally honest. Sometimes the saddest. Why are you here? Let's not overthink it.
And:
P.S. If you're here because of a recent post going viral, thanks for taking the time to have a further look around the page. I try to do my best to make each piece capable of holding a little water, be worthy of your time, and not add to the online cacophony without working in a few grace notes. I hope that's what you heard. Thanks again for reading.

Paul Duncan
The Out And Abouter
The satirical story already received over 400K engagements on Facebook, almost a third of the 1.5 million engagements received by the real GoFundMe campaign. Satire definitely isn't dead.