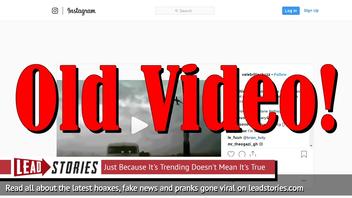 Does this video show the moment the pilot of the Ethiopian Airlines Flight ET302 Boeing that crashed on Sunday? No, that's not true: the footage is from a different crash in Afghanistan in 2013.
An example of the video was published on Instagram on March 11, 2019 by an account named "Celebrities Buzz" (@celebritiesbuzz)(archived here) embedded below:
(video archived here)
Users on social media only saw this title, description and thumbnail:
Video shows the moment the pilot control lost before the Ethiopian plane crashed\n\n#Viralvideo #aeroplane #ethiopia
The video was published by a Ghanian gossip website:
There's a video going viral online which captures the very moment the Boeing 737 Max 8 plane crushed unto the ground. The Ethiopian Airlines jet crashed shortly after take-off from Addis Ababa, killing all on board. The airline said 149 passengers and eight crew members were on flight ET302 from the Ethiopian capital to Nairobi in Kenya.
However the video actually shows a crash that happened near Baghram airport in Afghanistan in 2013: