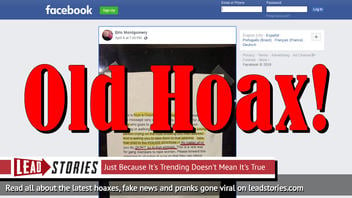 Do gangs use children who pretend to be lost as lures to trapped women and rape them? No, that's not true: A warning that "ladies" should avoid talking supposedly lost children to an address provided by the child and instead take them to a police station is a 14-year-old hoax that has been investigated and proven fake over the past years by police and news agencies.
The warning was first noticed in 2005 as it was shared in text messages -- before Facebook -- but it has re-emerged again in a post (archived here) published on April 8, 2019. It read:
This is from a County Sheriffs Department, please read this message very carefully. This message is for any lady who goes to work, college or school or even driving or walking the streets alone. If you find a young person crying on the road showing you their address and is asking you to take them to that address... take that child to the POLICE STATION!! No matter what you do, DON'T do to that address. This is a new way for gang members to rape women. Please forward this message to all ladies & guys so that they can inform their sisters & friends. Out 1 message may save a life. Published by CNN & FOX NEWS. (Please circulate).. **Please DO NOT IGNORE! Thank you
This is how it looks on social media:
The warning lacks specifics, not even naming th sheriff's department or specific crimes blamed on the tactic. The reference to CNN and FOX News is also unsupported. There are no stories on their websites that reflect such a warning.
This exact image was first seen online in 2005: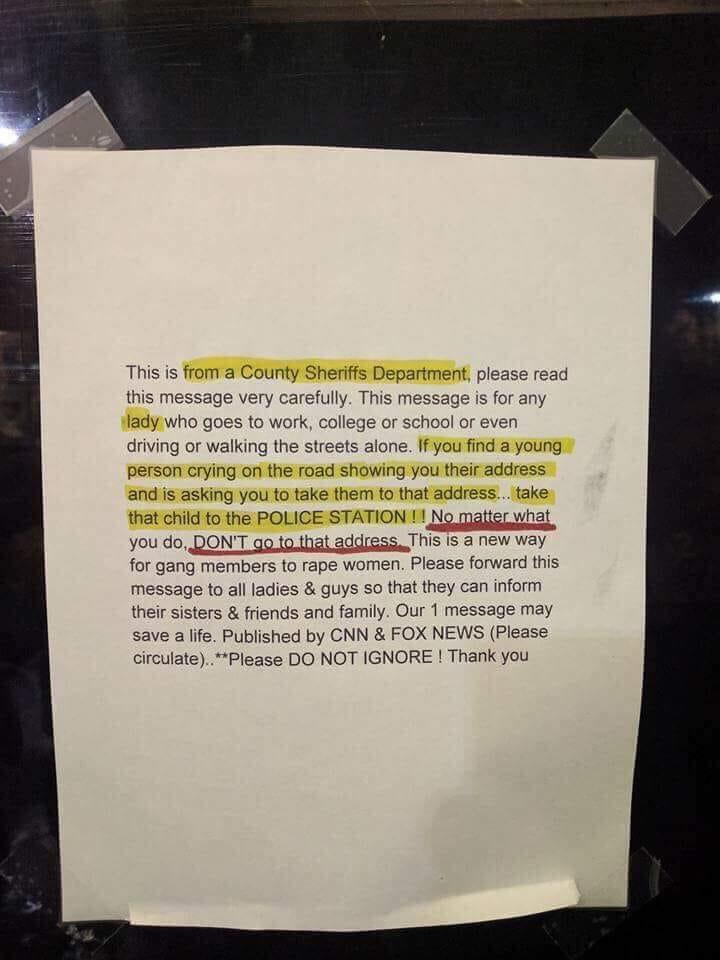 While fact-checking websites have disproven this several times in the past 14 years, the St. Johns County, Florida, sheriff did his own checking and then shared this on Facebook: