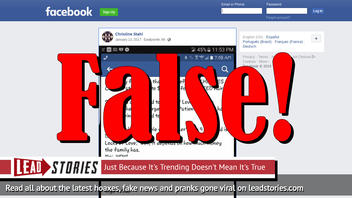 Does Locks of Love charge cancer patients for hairpieces made from donated hair? No, that's not true: Locks of Love is a non-profit charity that uses donations and volunteer workers to provide wigs to children suffering from long-term hair loss, including those whose hair loss is the result of cancer chemotherapy and radiation treatments.
The false claim that the group charged children spread through social media in recent years, including in a post (archived here) published on January 13, 2017 in the form a screenshot of a smartphone. It opened:
I recently found that 'Locks of Love' CHARGES cancer patients, up to $1,000.00 for DONATED hair.

So I called and talked to Locks of Love and sure enough, they DO charge cancer patients for the hair that is being donated to them!

Me: You charge people with cancer? My 9 year old is DONATING her hair!

Locks of Love: Well, it depends on how much money the family has.

Me: WOW!
Social media users see this:
Lead Stories called Locks of Love. A representative assured us that they do not charge any children for hairpieces made from donated hair. The myth that they did has been a problem for Locks of Love for more than two years because of the rumor's spread on social media. In fact, the group's website addresses it:
Q.
THERE IS A SOCIAL MEDIA POST CLAIMING TO HAVE CALLED LOCKS OF LOVE AND SAYS THEY WERE TOLD THE RECIPIENTS ARE CHARGED MONEY. IS THIS TRUE?

A.
This false post is just that, FALSE. LOL did not receive this phone call nor would anyone at our office have given this inaccurate information. Many people use our name to draw attention to themselves or their cause. IF there is an entity using our name and charging for hairpieces, it would be greatly appreciated if we could identify them and have this stopped.

Q.
ARE YOUR RECIPIENTS CHARGED ANY MONEY FOR THEIR HAIRPIECE?

A.
NO! Our recipients receive their custom prostheses, FREE OF CHARGE. Additionally, we provide a regular FREE "wig" for them to wear during the production period.
Locks of Love founder and president Madonna Coffman said this to Lead Stories:
Unfortunately, this post went unchallenged for some time before Locks of Love was on any social media platform. Although accurate information was easily accessible on our website, this was simply 'shared' over 1 million times. We have spent a great amount of time dispelling this fabrication. Even now, this post will occasionally resurface and circulate again. The damage done is tangible. We continue to recover and are fully committed to fulfilling the promise of a FREE custom cranial prosthesis for each of our recipients, every 2 years until they turn 21.
The false posting pointed anyone who wanted to donate hair to a group that does not charge patients for wigs to a Minnesota charity, Wigs 4 Kids.
The Wigs 4 Kids founder assured Lead Stories that her group was not involved in creating the fake post. "No, absolutely not," said Maggie Varney. "Nor would we." She praised the work of Locks of Love and emphasized that her charity was not in competition with it.
Lead Stories' investigation revealed that the original post was apparently created by a Florida woman named Pearl Infinger, also known as Pearl Millard, with several versions published over the past four years. And, the post continues to be shared by people who believe it it real:
Locks of Love has fought for several years to counter the false posts, including hiring a lawyer to consider legal action, according to the founder. This news report from 2018 was one effort to set the record straight.