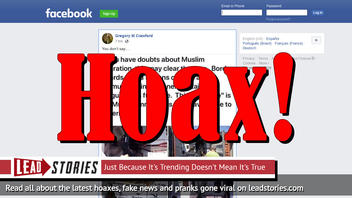 Did border guards find 52 tons of guns and ammunition in 14 Conex containers disguised as furniture bound for muslim immigrants in America? No, that's not true: this old hoax is a twisted version of an even older hoax about refugees in Greece that was based on a real story about an arms shipment from Turkey to (at the time) ISIS-controlled territory in Lybia.
The story recently popped up again in a post (archived here) on Facebook:
This is the image in the hoax, with a text that reads:
If you have doubts about Muslim migration, this may clear them up. Border guards found 52 tons of guns and ammunition in 14 Conex containers disguised as furniture. This "furniture" is for Muslim immigrants who have come to America.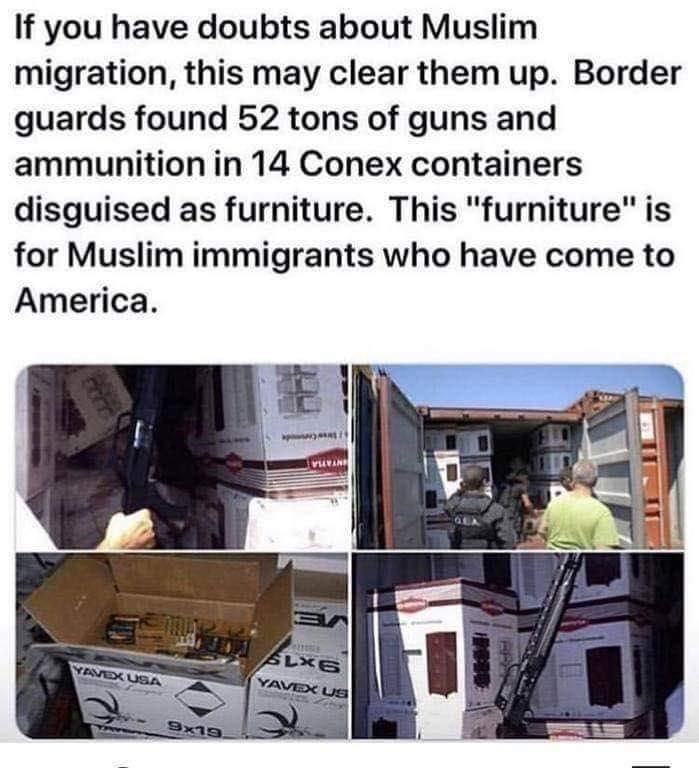 The original story of the arms shipment dates back from September 2, 2015:
ATHENS (Reuters) - Greek authorities have seized a freighter carrying an undeclared shipment of weapons en route from Turkey to Libya, coast guard officials said on Wednesday. A coast guard patrol boat raided the vessel on Tuesday, 20 nautical miles northeast of Crete.
The same story was also reported by The Independent, who posted videos of the containers and their contents. They seem to match the pictures in the viral image:
A huge stash of weapons and ammunition has been found hidden aboard a cargo ship understood to be bound for an area of Libya controlled by Islamic militants. Greek authorities have seized 5,000 shotguns and half a million rounds of ammunition found aboard the Haddad 1, which was heading to the Libyan city of Misrata.
In September 2015 Snopes debunked a hoax using the same pictures but claiming the weapons were bound for refugee camps in Europe:
In September 2015, social media users in Europe and the United States debated the merits of accepting an influx of refugees from war-torn regions such as Syria. While some expressed sympathy and willingness to help, others fostered and spread rumors claiming asylum seekers were Islamic State operatives in disguise.
In 2016 that story was updated with a new version of the hoax that was making the rounds, with following text:
If you have doubts about Muslim immigration, this might clear them up...

Greek Border guards found 52 tons of guns and ammunition in 14 Conex shipping containers disguised as "furniture" for Muslim immigrants. Note the discretion on the outside of the boxes.

FOR YOUR INFORMATION-YAVEX USA IS A TURKISH ARMS MANUFACTURING COMPANY THAT IS LICENSED TO DO BUSINESS IN FORT MEYERS, FLORIDA!!!

Brand new and still in their wrappers. All Automatic weapons!!!

Yeah, keep letting them into our country

If this doesn't convince you that this IMMIGRATION is nothing less than an ARMED INVASION then nothing will.

Wonder still why all those young (military age) men without children or wives are taking on the task of traveling all those miles posing as refugees?

This is one of the first things I noticed and found odd.....why aren't these "young men" fighting for THEIR country??? Then the Trojan Horse theory kicked in!!!

These are the same tactics they tried to pull when we were in Iraq...nothing has changed!!!

Most western nation Main Stream media won't cover this ...

SO PLEASE LIKE, SHARE AND RE-POST...
We have bolded the parts that seem to have been copied to create the latest version of the hoax, in which the "immigrants" have "come to America". It is one thing to have doubts about Muslim migration to America, it is quite another to have these doubts based on a made up story. Don't be fooled!
Besides, smuggling guns into the United States would be like sneaking a turkey sandwich into a steak house.