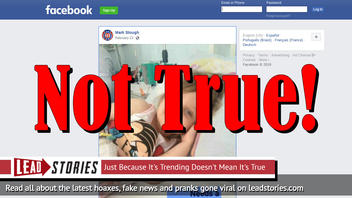 Does a little girl need a kidney and does she get $1 for every time a picture of her gets shared? No, that's not true: the picture has been circulating since at least 2017 on WhatsApp with the girl supposedly suffering from various illnesses and the promise she would receive something if only the picture was shared. But it is impossible to track how many times a photo is shared on WhatsApp due to the encryption used on the platform so even if the part about the donations was true it would not have been possible.
Pictures like these are often used by scammers trying to boost the position of a page or account in social media algorithms by attracting likes, shares and comments from well-meaning internet users. But sometimes regular internet users are also taken in by such an image.
An example can be seen in a Facebook post (archived here) posted on February 24, 2019 that has racked up almost a quarter million shares:
This is the image in question: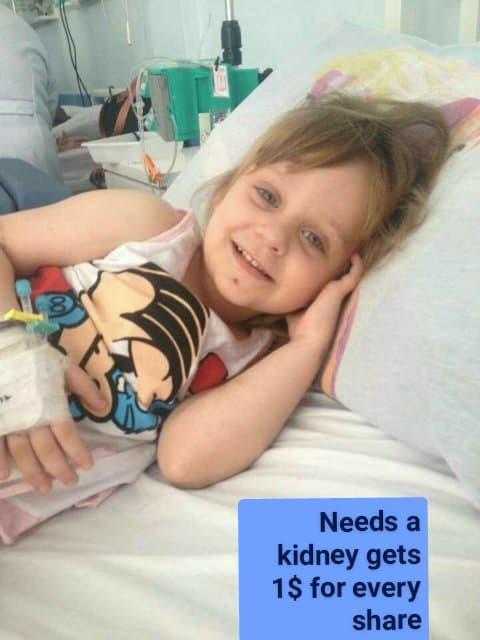 In fact, according to reporting from Spanish newspaper El Pais, the girl is named Ana Flávia Bastos and in 2017 she was in hospital in Brazil being treated for leukaemia. Her familiy launched an appeal to get blood donations for her but unscrupulous people stole the picture and posted it to social media with a caption that claimed she needed a bone marrow transplant and that for every person who shared it on WhatsApp one peso would be donated.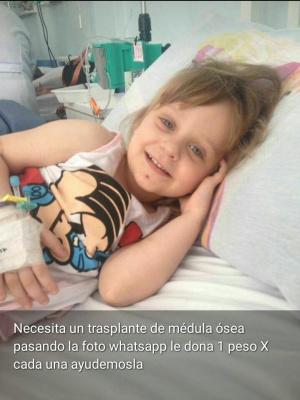 In Brazil people don't pay with pesos, they pay with real. And it is impossible to track posts on WhatsApp due to the encryption like we mentioned earlier.
Austrian fact checking site Mimikama reported on a different version of this hoax making the rounds in German in 2018:
Sponsorenliebe | Werbung - Und selbst wenn man noch so stark klickt oder sogar die rechte Maustaste nutzt, sie wird nicht mehr und auch nicht weniger bekommen. Es tut mir auch aufrichtig Leid all die Nutzer enttäuschen zu müssen. [...] jedes Mal, wenn ihr Bild geteilt wird, erhält sie einen Dollar für ihre Transplantation.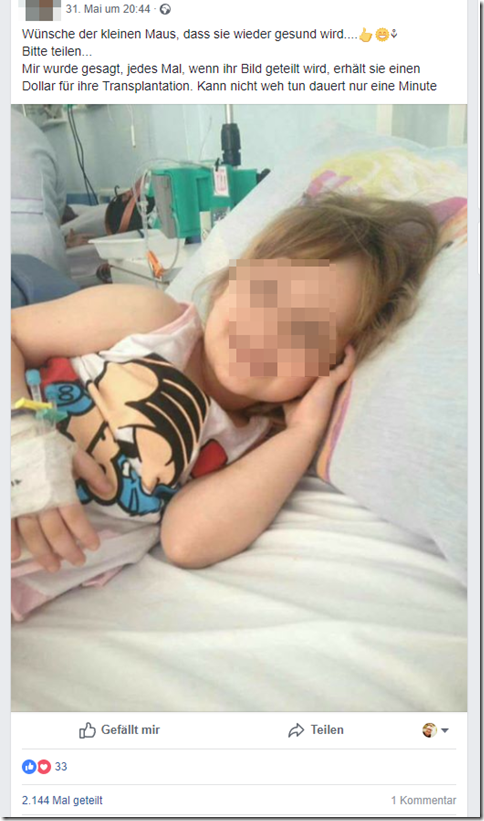 It goes without saying that simply liking or forwarding a photo like this does nothing for the child or patient in question.
If you really want to make a difference: the original appeal for blood donations is still online here:
Cidades, Paraná, Brasil, Mundo, Policial, Celebridades, Televisão, Esportes
The parents wrote that if you live too far away to help their daughter you could maybe help save someone else by visiting your local blood bank and making a donation.