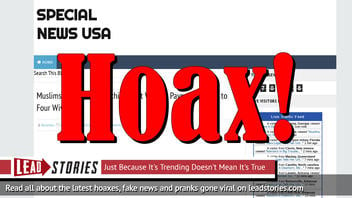 Do Muslims in Dearborn, Michigan get welfare payments for up to four wives? No, that's not true: The claim was made up to support the argument that Sharia law is gaining a foothold in the state by catering to Muslim immigrants who practice polygamy. The State Department only allows one spouse per immigrant accepted into the United States and Michigan's government only recognizes one spouse in benefit programs. While some men -- Muslim and otherwise -- may consider themselves as having more than one wife, polygamy is illegal in every state in the country.
The story originated with a YouTube video and a viral email chain in 2014, but re-emerged online an article published on May 16, 2019 titled "Muslims in Dearborn, Michigan Get Welfare Payments for up to Four Wives" (archived here) which opened:
Dearborn, Michigan -- a city of 100,000 -- has fully embraced its Arab-American and Muslim inhabitants (which make up about 44% of the city's population) as well as some of the dangerous ideas of Sharia law.

Polygamy is illegal here in the US, but what about immigrants who already have more than one wife? According to American Freedom Fighters (AFF), these men are listing wives 2, 3, and 4 (yes, they are allowed 4 wives each) as "extended family" when qualifying for welfare and other government programs.

This means that instead of assimilating into the American culture, Muslim men in MIchigan are continuing to adhere to Sharia law (which by the way allows men to beat their wives AKA their "property") while at the same time taking advantage of taxpayer dollars.

The Arabic language has become so common in Michigan that the Michigan Department of Human Services, which residents must call when applying for food stamps, prompts callers to press 1 for English, 2 for Spanish, and 3 for Arabic (I tried it myself).
Users on social media only saw this title, description and thumbnail:
Baghdad." Dearborn, Michigan - a city of 100,000 - has fully embraced its Arab-American and Muslim inha...
The story is false for several reasons. First, a man cannot immigrate with multiple wives into the United States. Check the U.S. State Department website (click here to see it) for the definition of "spouse" for the purposes of immigration:
A spouse is a legally wedded husband or wife.

-- Merely living together does not qualify a marriage for immigration.
-- Common-law spouses may qualify as spouses for immigration purposes depending on the laws of the country where the common-law marriage occurs.
-- In cases of polygamy, only the first spouse may qualify as a spouse for immigration.
Second, a person cannot claim government benefits (generally referred to as welfare) for more than one spouse in Michigan, or the city of Dearborn specifically. If there is a second, third, or fourth woman in the household, they would have to apply separately for benefits, with eligibility based on their financial situation and not on religion. New arrivals to the country with a legal status can apply for welfare programs, but there are no special provision for Muslim residents, despite -- as the fake story correctly notes -- they make up about 44% of Dearborn's population. Dearborn and Michigan's welfare eligibiity requirements are very much like most other states.
When this fake story first appeared, the Atlanta-Journal Constitution newspaper researched the question, including speaking to Michigan Department of Health and Human Services spokesman Bob Wheaton. He said:
For cash assistance and Medicaid, as per federal rules, only one spouse can be included in a group for determining eligibility, Any other non-related members of the household can't be included.
Food Stamps under the SNAP program has a loophole in the rules, however, that might allow the second, third and fourth wives to be counted for benefits determination, according to the AJC.com interview with Michael Wiseman, a research professor at George Washington University. He said:
The SNAP benefit formula recognizes 'economies of scale,' so that breaking the subfamilies apart increases total benefits paid. Thus it is not fraud, as long as any contributions to the second family from the first are reported by the second family and included in benefits calculation.
As for having a choice of being transfered to an Arabic-speaking agent for help in applying for benefits, yes, some agencies in Michigan provide that.
This is the YouTube video that makes the false claims. It has been viewed nearly 1 million times since it was posted in August 2014.
The false claim also has been shared widely through memes, such as this one: