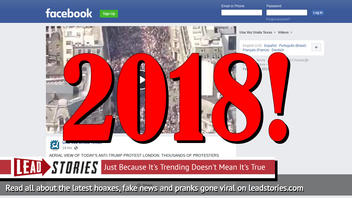 Does a BBC video being shared on social media show an aerial view of anti-Trump protests in London during his 2019 state visit? No, that's not true: the video is actually from 2018 (but it does show protesters demonstrating against Trump's visit that year).
An example of the video can be seen in a post (archived here) from a page named "Una Voz Unida Texas" where it was published on June 4, 2019 with a caption that read:
AERIAL VIEW OF TODAY'S ANTI-TRUMP PROTEST LONDON. THOUSANDS OF PROTESTERS MARCH DOWN THE STREETS OF LONDON AGAINST TRUMP'S POLICIES & RECENT VISIT. I'M GUESSING THIS WASN'T THE PARADE TRUMP WAS HOPING FOR LOL
The same video was uploaded to YouTube by the BBC on July 13, 2018:
However that didn't stop this tweet from going viral which also claimed the video was from 2019:
Aerial view of today's Anti-Trump protest London. Thousands of Protesters March down the Streets Of London against Trump's policies & recent Visit. I'm guessing this wasn't the Parade Trump was hoping for lol pic.twitter.com/H1LdjrtGZS

-- fototec (@fototec_fu) June 4, 2019
This isn't the first Trump protest video from 2018 being spread around on social media as if it happened during Trump's 2019 visit to the U.K., only yesterday did we report about a similar video of a pro-Trump protest:
STORY UPDATED: check for updates below. Is there a video of a crowd in the UK chanting "We Love Trump" during President Trump's current state visit and is the media ignoring it? No, that's not true: the video is from a demonstration in 2018 (when Trump also visited the UK) and has nothing to do with Trump's current visit.
When posting, liking or sharing video of current events on social media, always check the source and the date!