STORY UPDATED: check for updates below.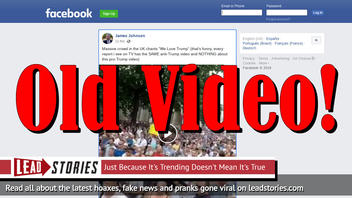 Is there a video of a crowd in the UK chanting "We Love Trump" during President Trump's current state visit and is the media ignoring it? No, that's not true: the video is from a demonstration in 2018 (when Trump also visited the UK) and has nothing to do with Trump's current visit.
The video went viral again through a post published by James Johnson on June 4, 2019 (archived here) with following text:
Massive crowd in the UK chants "We Love Trump" (that's funny, every report i see on TV has the SAME anti-Trump video and NOTHING about this pro-Trump video)
This is the post in question:
But the same video has been online since at least October 2018 when it was uploaded to YouTube (archive here and here), as you can see here:
It shows footage from a July 14, 2018 protest that was covered by the media at the time:
Twelve people were arrested as thousands of protesters descended on Whitehall for a rally in support of jailed far-right activist Tommy Robinson and US president Donald Trump. Violent clashes broke out as police officers attempted to keep the demonstration under control on Saturday afternoon.
As Fox News and others reported at the time:
Thousands of Trump supporters and right-wing activists took to the nation's capital on Saturday - a day after anti-Trump protesters had dominated the city. While the displays of right-wing support were nowhere near as large as the enormous anti-Trump march that demanded the international media's attention the day before, it was still a significant show of support for Trump from those eager to counter the claim that Trump had been unanimously rejected by Britons.
Watch Pro-Trump supporters defend Donald Trump's visit to U.K. Video Online, on GlobalNews.ca
LONDON (AP) - British police have arrested a man and a woman at a right-wing protest in London, where people supporting a prominent right-wing activist were joined by a "Welcome Trump" rally. The small rally supporting U.S. President Donald Trump - who's in Scotland after visiting London - joined the "Free Tommy Robinson" protest Saturday in London's Whitehall.
The protest is also mentioned in this BBC report:
Thousands took to the streets of Edinburgh in a third day of protests against Donald Trump's UK visit. They demonstrated as the US president played golf during a visit to his Turnberry resort on the Ayrshire coast. Mr Trump is in Scotland on a private visit with his family ahead of a summit with Vladimir Putin in Helsinki.
Specifically:
As well as the protests in Edinburgh and at Turnberry, there were supporters of Mr Trump at London's "Welcome Trump" and "Free Tommy Robinson" processions.

English right-wing activist Robison is currently serving a 13 month jail sentence for potentially prejudicing a court case .

The Met Police said that there were clashes during those processions and 12 people were arrested for a range of alleged crimes, including violent disorder, assault and and public order offences.
Here is more footage from the July 2018 protest from the Associated Press:
But by now that is old news so television stations are unlikely to show the footage today.
That is not to say there aren't any Trump supporters welcoming the president in London in 2019, this ABC News report for example does show them:
Tucked away in a quiet corner of West London, thousands of miles away from Washington, a pub has been renamed The Trump Arms in honor of the state visit by the President of the United States. Add Donald Trump as an interest to stay up to date on the latest Donald Trump news, video, and analysis from ABC News.
But anyone trying to make that point with a 2018 video is either not a very good reporter or actively being dishonest. Note that this isn't limited to one side of the debate: a similar video of an anti-Trump protest from 2018 was also being presented as being from 2019 on social media:
Does a BBC video being shared on social media show an aerial view of anti-Trump protests in London during his 2019 state visit? No, that's not true: the video is actually from 2018 (but it does show protesters demonstrating against Trump's visit that year).
2019-06-05T12:00:07Z

2019-06-05T12:00:07Z

Added reference to 2018 anti-Trump protest video also being presented as being from 2019

2019-06-05T06:20:30Z

2019-06-05T06:20:30Z

Added more examples of the media covering the 2018 protest.