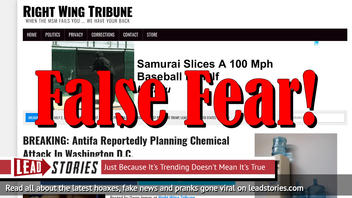 Is there evidence that Antifa is planning a chemical attack in Washington, D.C., during the July 4th holiday weekend? No, that's true: The claim published by right-wing websites -- including a warning that "civil war is on the horizon" -- are based on a single anonymous message thread on a right-wing social platform. It is a dangerous claim that could raise unnecessary fear, inflame passions, and lead to violence, according to an expert who monitors hate groups.
The claim originated in an article on Big League Politics which then was copied by other websites, including an article published by Right Wing Tribune on July 1, 2019 titled "BREAKING: Antifa Reportedly Planning Chemical Attack In Washington D.C." (archived here) which opened:
Following a vicious attack on right-leaning gay Quillette journalist Andy Ngo in Portland, Ore., on Saturday while covering the city's latest antifa crime fest (er, sorry...'demonstration'), another alleged supporter of the group is threatening (online) to use acid when attacking conservatives at a speech rally in Washington, D.C., this coming weekend.

A person utilizing artwork created by a Rolling Stone journalist who writes favorably about Antifa has threatened to attack attendees of the Demand Free Speech rally with "muriatic acid, wax, and balloons" on July 6 in Washington, D.C.

The threats were made on a popular right wing Telegram channel. A user with the name "POUND ON YOUR BOY" made several threats against the rally, prompting co-organizer Enrique Tarrio to contact the FBI and DHS, who are now planning to provide additional security to the event.
Users on social media only saw this title, description and thumbnail:
If this happens all hell will break loose.
The story quotes the message thread from the unidentified "POUND ON YOUR BOY" account:
Over the course of about 10 minutes last night, the "POUND ON YOUR BOY" account asked how the D.C. event is "coming along", and referenced muriatic acid multiple times.

"I just want to toss as many balloons of Muriatic acid in the faces as many Proud Boys I can [sic]", wrote the user, "I just want to blind as many of you c**k suckers are possible [sic]."

Oh, the Left-wing 'tolerance' and 'compassion.'

The user continued making threats and concluded his thread with, "We already have the Muriatic acid, wax, and balloons."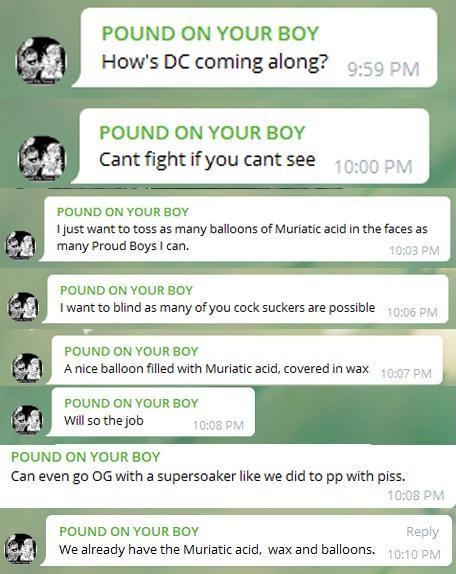 Right Wing Tribune only offers speculation that "POUND ON YOUR BOY" is a part of Antifa and has knowledge of the group's purported attack planning.
While researching the "POUND ON YOUR BOY" name and cartoon profile photo associated with the Telegram account, Big League Politics was able to identify Twitter and Instagram accounts with the same phrase and artwork.

The artwork and phrase were created by Fagan Kuhnmuench, a Rolling Stone and Playboy journalist who repeatedly writes articles and social media posts sympathetic of Antifa.

Kuhnmuench was contacted by Big League Politics and said that the account associated with his artwork is not his -- that he's not on the platform. He didn't provide any commentary about his artwork being used to threa.ten violence.
The story references the recent violence at a Portland, Oregon, protest in which journalist Andy Ngo was injured. Antifa and right-wing protestors clashed in the streets, as shown in this video:
To better assess the alleged threat on the Washington, D.C., rally, Lead Stories consulted Brian Levin, the director of the Center for the Study of Hate and Extremism at California State University, San Bernardino. Levin shares his definition of the group:
Antifa is a wide ranging grassroots political movement that opposes not only facism and racism, but is also highly critical of America's current legal, capitalist and political systems. Their members participate in a broad range of mostly legal activities including primarily doxxing, monitoring, and counter-protests. However, a smaller, but influential number of adherents actively encourage and promote violent street attacks against 'facists,' journalists and police at demonstrations.
Levin, who closely monitors threats on each side, says while he expects counter protests in Washington, there is not evidence of a violent plot:
Many local Antifa chapters from around the country are planning to counter protest, and those events sometimes turn violent, but there are no confirmed reports of violent plots. Frequently in the run up to these protests violent rhetoric is often drummed up by both Antifa and their antagonists, and sometimes by imposters
False news reports about violent plans are dangerous, he says:
These kinds of incendiary statements inflame an already polarized political landscape and routinely give credence to rumors around these events, that later prove unsubstantiated, like those about last weekend Portland Antifa protestors being armed with 'cement' infused weaponized milkshakes.
NewsGuard, a company that uses trained journalist to rank the reliability of websites, describes rightwingtribune.com as:
A site that covers national and international politics, often with a conservative slant. The site does not disclose its ownership or information about its writers, and frequently inserts opinions into headlines and articles.
According to NewsGuard the site does not maintain basic standards of accuracy and accountability. Read their full assessment here.