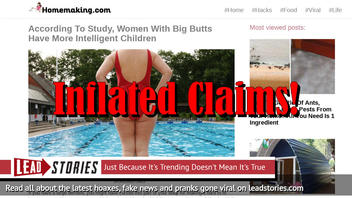 Did a scientific study conclude that women with "big butts" have smarter children? No, that's not true: It is a misleading simplification of a review of several studies more than a decade old of the role that lower-body fat plays in women's health and the pre-natal development of her children. One study does find a woman's "waist-to-hip ratio" is a possible predictor of a mother and child's performance on cognitive test, but the ratio is not related to "big butts." The studies mostly relate to possible health benefits -- not intellect -- of fat found in the legs compared to fat stored higher in the body.
The overblown claims about the virtues of "big butts" began circulating in 2010, but have been frequently re-cycled, including in an article (archived here) that was being shared in July 2019 under the title "According To Study, Women With Big Butts Have More Intelligent Children." It opened:
If you have a large derriere, you might have cursed this part of your body for making it hard to fit into pants, etc. However, women with large backsides shouldn't be upset -- they should be thankful! According to a recent study, women with big butts have more intelligent offspring than women with smaller butts.
This is an example of how one of the misleading "big butt" stories appeared on social media:
The Homemaking.com article grossly oversimplified what a real study concluded:
The study conducted by the University of Oxford revealed that women with big butts have smarter, healthier children due to the high amount of Omega 3 fatty acids (good fatty acids) stored there. These are the same fatty acids responsible for the normal, healthy development of a baby's brain.

Scientific research has also shown that the fat content present in a mother's breast milk is sourced from the lower regions of the body. This includes a woman's thighs, buttocks, etc. Subsequently, the high amount of Omega 3 fatty acids become part of her baby's balanced, nutrition-filled diet.
And that is about all this story says. Instead of linking to the actual studies, this article linked to another misleading article titled "Scientists Say That Women With Bigger Butts Give Birth To Smarter Kid." This was published in March 2015 by ScienceTimes.com, which shows that just because a website has the word "science" in its name doesn't make it science.
According to a 2010 study from the University of Oxford, big butts result in healthy children because of the high amount of Omega 3 fatty acids (the good fatty acids) stored. These are the same fatty acids that are responsible for the normal development of the baby's brain.

But according to the Chicago Tribune, scientists have proved this a long time ago, in 2007 to be precise. They noted that women with fat-bottoms are smarter than women with flat-bottoms. Again, the reason is because of the heightened storage of Omega 3 fatty acids, which improves the functionality/development of their brain.
The Chicago Tribune story referenced in this article was from way back in 2007 and titled "The brain/butt theory." It reviewed a real study titled "Waist-hip ratio and cognitive ability: Is gluteofemoral fat a privileged store of neurodevelopmental resources?" Now, we are getting to actual science, which is absent or distorted in the stories. This study's abstract says:
Upper-body fat has negative effects and lower-body fat has positive effects on the supply of long-chain polyunsaturated fatty acids that are essential for neurodevelopment. Thus, waist-hip ratio (WHR), a useful proxy for the ratio of upper-body fat to lower-body fat, should predict cognitive ability in women and their offspring. Moreover, because teenage mothers and their children compete for these resources, their cognitive development should be compromised, but less so for mothers with lower WHRs. These predictions are supported by data from the Third National Health and Nutrition Examination Survey. Controlling for other correlates of cognitive ability, women with lower WHRs and their children have significantly higher cognitive test scores, and teenage mothers with lower WHRs and their children are protected from cognitive decrements associated with teen births. These findings support the idea that WHR reflects the availability of neurodevelopmental resources and thus offer a new explanation for men's preference for low WHR.
Those big words do translate to a simple conclusion: The closer a woman's waist size is to her hip size, the more likely she and her children will do better on cognitive tests. It does not say anything about the shape of a butt, just the ratio of waist to hip. But that doesn't make for a great click-bait headline designed to drive traffic to a website.
An ABC News story published in 2010 titled "Does More Butt And Thigh Fat Make You Healthier?" is a much better look at a scientific review of the health benefits of lower body fat. Keep in mind, this is one of the studies cited by many of the big-butts-are-better stories.
A new review published by researchers at the University of Oxford and Churchill Hospital in the United Kingdom suggests that people who carry their body fat in their thighs and backside aren't just carrying extra weight, but also some extra protection against diabetes, heart disease and other conditions associated with obesity.

"It is the protective role of lower body, that is [thigh and backside] fat, that is striking. The protective properties of the lower body fat depot have been confirmed in many studies conducted in subjects with a wide range of age, BMI and co-morbidities," the researchers write in the most recent issue of the Journal of Obesity.
The abstract of this study titled "Gluteofemoral Body Fat as a Determinant of Metabolic Health" does offer some encourage for those with more fat in the lower body, but it does not suggest big butts make you or your babies smarter than others:
Body fat distribution is an important metabolic and cardiovascular risk factor, because the proportion of abdominal to gluteofemoral body fat correlates with obesity-associated diseases and mortality. Here, we review the evidence and possible mechanisms that support a specific protective role of gluteofemoral body fat. Population studies show that an increased gluteofemoral fat mass is independently associated with a protective lipid and glucose profile, as well as a decrease in cardiovascular and metabolic risk. Studies of adipose tissue physiology in vitro and in vivo confirm distinct properties of the gluteofemoral fat depot with regards to lipolysis and fatty acid uptake: in day-to-day metabolism it appears to be more passive than the abdominal depot and it exerts its protective properties by long-term fatty acid storage. Further, a beneficial adipokine profile is associated with gluteofemoral fat. Leptin and adiponectin levels are positively associated with gluteofemoral fat while the level of inflammatory cytokines is negatively associated. Finally, loss of gluteofemoral fat, as observed in Cushing's syndrome and lipodystrophy is associated with an increased metabolic and cardiovascular risk. This underlines gluteofemoral fat's role as a determinant of health by the long-term entrapment of excess fatty acids, thus protecting from the adverse effects associated with ectopic fat deposition.
These stories that inflate or misinterpret scientific research are often the result of writers who are assigned to produce content that will lure you to click and share. Too often, these "journalist" just re-write what others have written and they do not take time to read the actual studies. There is a danger in this since it can put false information in your mind, leading to bad health decisions. Here just a few of the most recent examples Lead Stories has debunked:
Fake News: Women Do NOT Need To Go Out With Friends Twice A Week To Stay Healthy
Fake News: NO New Study Reveals That Men Who Marry Plus-size Women are Happy
Fake News: Eating Vaginal Fluids Does NOT Make You Immune To Cancer, And Other Diseases
Fake News: Scientists Did NOT Declare That Redheads Are Actually Genetic Super Heroes
Fake News: Study Did NOT Conclude Bigger Than Average Penis Is a Disability Associated With Low Mental Capacity
Fake News: Turns Out McDonald's French Fries Can NOT Cure Baldness