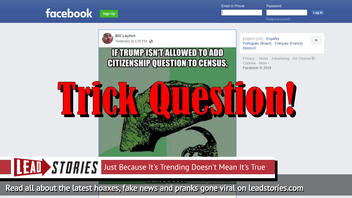 If President Trump isn't allowed to add the citizenship question to the U.S. census for 2020, then why was President Obama allowed to remove it for the 2010 census? That's a trick question posed by a meme. Yes, a federal court did block the Trump administration from putting a citizenship question for everyone in the upcoming count of people in the United States, but Obama did not remove it in 2010. In fact, the last time the citizenship question was asked of all households was in 1950.
The misleading question originated in the form of a social media memes. One featured a photo of Albert Einstein, and another was a post (archived here) published on July 17, 2019 featuring the cartoon image of a dinosuar scratching its chin. It read:
IF TRUMP ISN'T ALLOWED TO ADD THE CITIZENSHIP QUESTION TO CENSUS, THEN WHY WAS OBAMA ALLOWED TO REMOVE IT?
This is what social media users saw:
A citizenship question first appeared in 1820, the fourth time the census was taken. It was asked in most decades since, but not of everyone. For example, in 1870 only males 21 or older were asked. The most recent census in which everyone was asked about their citizenship was 1950. Here is the actual questionnaire:
1950 Population Questionnaire by Alan Duke on Scribd
Starting in 1970, the question was only asked on the long form questionnaire which went to just one of every six households. Five of six responded to a shorter form without the citizenship question. The long form was ditched for 2010 and everyone got the same 10 questions, none of them asking about citizenship. This is the 2010 form:
2010 Questionnaire by Alan Duke on Scribd
The U.S. Census Bureau began measuring citizenship with the American Community Survey starting in 2005. The ACS is conducted every year, surveying 3.5 million households to collect demographic and socioeconomic data. This was also done in 2010, separate from the census. Here is the ACS form:
Quest 19 by Alan Duke on Scribd
The concerned green dinosaur in the meme can be reassured that citizenship data is still being collected by the U.S. census bureau, only each year and not as part of the every-decade questionhaire.