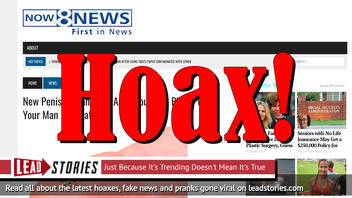 Is there some kind of "penis implant" from Apple or Microsoft that will alert your cellphone when you partner is cheating on you? No, that's not true: the story was put out by a well known fake news site in 2016 but it keeps going viral periodically.
The story originated from an article (archived here) where it was published by Now8News on June 14, 2016 under the title "New Penis Implant Will Alert Your Cell Phone When Your Man Is Cheating". It opened:
Microsoft and Apple have joined forces to cut down on infidelity, save marriages and keep people in relationships accountable for their actions. Together, the technology giants have created a "genital implant" that will alert your cell phone if your partner goes astray. It is called Commit-Tech.

Commit-Tech is a tiny chip that will be implanted at the tip of the penis on the man and the vulva of the woman. These two microchips will be synced together with an app that is installed on your cell phone. If at any time, one of these chips is involved in any sexual activity without the other chip, it will alert the partners cell phone that the other has been cheating.
The picture of the chip is actually a stock photo of a light sensor:
Find more stock photos on Shutterstock...
There are no search results mentioning the technology on the website of Microsoft for "Commit-Tech" and the same goes on Apple's website.
Now8News is a fake news website that is part of a network of similar sites posting false stories all hosted on the same IP address (67.227.229.104). Notorious hoax sites in the network seem to include:
actionnews3.com
news4ktla.com
now8news.com
theracketreport.com
We wrote about now8news.com before, here are our most recent articles that mention the site: