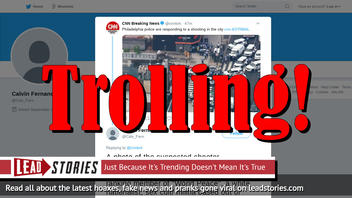 Is the suspect in the ongoing active shooter situation in Nicetown, Philadelphia a right wing extremist named Sam Hyde? No, that's not true: every time a shooting happens certain online trolls start blaming the comedian for it in a weird in-joke. It is not known who the shooter is at this time. For more info on the shooting see here:
Philadelphia police swarmed the area near a shooting in the Nicetown-Tioga neighborhood where five officers have been shot, Sgt. Eric Gripp said Wednesday via Twitter.
An example of a trolling tweet making the claim can be seen here (archived here) on Twitter:
A photo of the suspected shooter.

Sam Hyde is a right wing extremist and high ranking member of "World Peace", a white nationalist, sex cult/ militia based out of Tennessee.

He is armed and dangerous. pic.twitter.com/INylp4NY3t

-- Calvin Fernandez (@Calv_Fern) August 14, 2019
Blaming right-wing comedian Sam Hyde of being the suspect after a mass shooting is a strange in-joke that has been going on for years.
Sam Hyde is not the perpetrator of a mass shooting. But whenever a shooter strikes and the news reports casualties, trolls race to name Hyde as the culprit. In the worst cases, authorities have been tricked into giving Hyde's name to the press.
Here is more information about Sam Hyde and the infamous "Sam Hyde Is The Shooter" meme originally propagated by 4chan trolls:
Sam Hyde is an Internet comedian who co-founded the sketch comedy group Million Dollar Extreme and rose to viral video fame after staging a satirical TEDx talk about wonders of the future at Drexel University in October 2013.