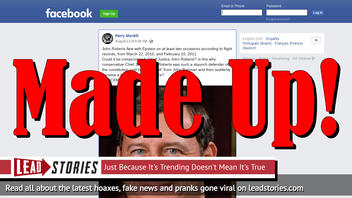 Did Chief Justice John Roberts fly with Jeffrey Epstein on at least two occasions? No, that's not true: The August 2019 release of 2,000 pages of documents relating to a civil lawsuit against Epstein included more flight logs with additional names of famous people who flew on the accused sex trafficker's private jet, but Roberts was not one of them. The creator of a social media meme making the false claim attempted to connect Roberts's decisive vote to affirm a key provision of the Affordable Care Act (ObamaCare) in 2012 with a blackmail plot using his purported relationship with the infamous multi-millionaire.
The false claim originated in a meme (archived here) published in August 13, 2019 under the title "His name is on the flight log. Might answer some questions". It opened:
John Roberts flew with Epstein on at least two occasions.according to flight records, from March 22, 2010, and February 10, 2011.
Could it be compromised, Chief Justice John Roberts? Is this why conservative Chief Justice John Roberts was such a staunch defender of the constitution until he got a "visit" from John Brennan and then suddenly became a huge fan of Obamacare?
*BLACKMAILED*
This is what social media users saw:
Several pages of flight logs covering 1999 through 2002 were published in 2015, but now -- thanks to an order from a federal appeals court -- we can see flight logs from November 1995 through August 2013.
Yes, some pretty big names are on the flight logs for Jeffrey Epstein's private jet, including former President Bill Clinton and (then future president) Donald Trump. Having been a passenger on what some media call Epstein's "Lolita Express" does not prove someone was involved or even aware of Epstein's alleged pedophile sex trafficking. The wealthy investment manager offered his plane for charitable trips, including a multi-national tour of Africa for an AIDS education mission (which Clinton took part in.) The logs, which were handwritten by the pilot to document his work, do not include any mention of Chief Justice Roberts as a passenger on March 22, 2010, and February 10, 2011, as alleged by the meme.
The theory that Chief Justice Roberts was blackmailed into voting to affirm Obamacare has been around for several years. It was expressed in an article published by TheBlaze.com on June 25, 2016, titled "Was Supreme Court Justice John Roberts Blackmailed?" It read:
Because something clearly smells rotten in Washington, D.C. Like "the mafia delivering a dead fish to your door" rotten. Conservatives just won national elections in a massive wave, a historic landslide. We control both houses of Congress; we control the Supreme Court, yet we continue to lose every key vote in Congress and every key Supreme Court ruling.

Suddenly when Republicans win elections, elections have no consequences. Doesn't this seem odd? Doesn't something smell rotten, like the fix is in?

Justice Roberts voting for Obamacare twice is as likely as me voting to save Obamacare.
Lead Stories previously debunked a hoax that claimed many other famous names were on the flight logs. Read "Fake News: Epstein's 'Lolita Express' Flight Logs Do NOT List Joe Biden, John McCain, Barack Obama, Hillary Clinton, Pope Francis And 4 CNN Hosts As Passengers."
We also debunked several other false claims concerning Epstein's death inside a federal jail:
Fake News: NO Report: 'Camera Malfunction' In Epstein's Prison Cell Prevented Recording Of His Alleged Suicide
Fake News: Bill Barr Did NOT Allegedly Make Secret Visit To Jail Before Epstein's Death