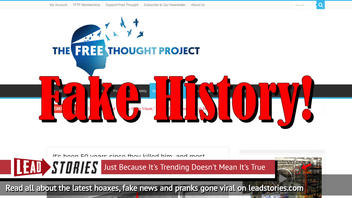 Did the FBI and Memphis police admit having a role in the assassination of Dr. Martin Luther King Jr.? No, that's not true: James Earl Ray, a civilian not connected to law enforcement, pleaded guilty to being the lone assassin of the civil rights leader on April 4, 1968, and no one with any federal, state or local agencies has ever admitted complicity in a conspiracy to kill Dr. King.
The false claim originated from an article (archived here) published by TheFreeThoughtProject.com on April 4, 2017 under the title "It's Been 51 Years, and Most Don't Know the FBI & Police Admitted Their Role in the Assassination of Dr. King." It opened:
It's been 51 years since the assassination of Dr. Martin Luther King Jr., the FBI and Memphis Police Department have sparingly released information implicating themselves or members of their agencies in facilitating and directly causing the untimely death of Dr. King. Although the Justice Department officially claims James Earl Ray assassinated MLK, a civil suit later determined that a Memphis cop was involved in a conspiracy to murder the civil rights leader.
This is what social media users saw:
The only reference in this story to any admission by law enforcement to involvement in a conspiracy was this passage near the end:
In 1999, civil trial King v. Jowers determined former Memphis PD officer Loyd Jowers had been complicit in a conspiracy to assassinate Dr. King. In December 1993, Jowers appeared on ABC's Prime Time Live confessing to his participation in Dr. King's assassination. Jowers admitted he believed MPD Lt. Earl Clark the shot that killed Dr. King, not James Earl Ray.
Loyd Jowers owned a restaurant in the rooming house in which Ray was staying when King was killed and he was not a Memphis police officer. In 1993, Jowers told ABC News that he had hired a man to kill King as a favor for a Mafia-connected friend. A 1999 wrongful death civil trial did not result in any government "admisssion." The jury found that Jowers was part of an assassination plot that also involved "governmental agencies." Jowers was too ill to attend the trial and he died the next year of cancer, the Los Angeles Times reported:
The King family was represented by William F. Pepper, the attorney for the confessed assassin, Ray. The trial relied heavily on second- and third-hand accounts, and the judge and jurors were often seen dozing off during testimony.

Inconsistencies between Jowers' story and that of other witnesses questioned over the years were not presented to the jury, including conflicting statements by Jowers on the race of the assassin he claimed to have hired.
The U.S. Justice Department later released a 150-page report that discredited the jury verdict, saying there was no such conspiracy.
Our conclusion is stories claiming that any government "admitted" any role in the assassination of King are false.
NewsGuard, a company that uses trained journalist to rank the reliability of websites, describes thefreethoughtproject.com as:
A site whose stated mission is "to foster the creation and expansion of liberty minded solutions to modern day tyrannical oppression." The site has repeatedly published misleading information and headlines.
According to NewsGuard the site does not maintain basic standards of accuracy and accountability. Read their full assessment here.
We wrote about thefreethoughtproject.com before, here are our most recent articles that mention the site: