STORY UPDATED: check for updates below.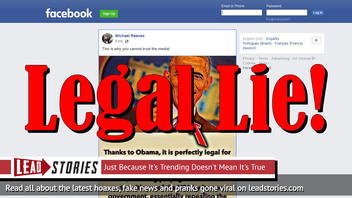 Did Barack Obama quietly sign into law HR 4310 in 2012 that made it legal for the media to purposely lie to the American people? No, that's not true: HR 4310 was the authorization act for Pentagon funding in 2013 and included many provisions tacked on, including one that removed restrictions on Voice of America, Radio Free Europe/Radio Liberty, and the Middle East Broadcasting Networks that had forbidden their distribution in the United States. It did not change any laws relating to non-governmental media and did not make it "perfectly legal" for any entity to lie that was not already legally lying. It had nothing to do with private media or fake news.
The false claim was shared in a meme (archived here) posted on August 19, 2019 under the title "This is why you cannot trust the media!". The message below a photo of former President Barack Obama read:
Thanks to Obama, it is perfectly legal for the media to purposely lie to the American people. He quietly signed into law HR 4310 in 2012, allowing propaganda to be used on the citizens of the USA by its own government, essentially repealing the Smith-Mundt act of 1948, banning the use of domestic propaganda.
This is what social media users saw:
When President Obama signed HR 4310 into law on January 3, 2013, instead of "quietly signing," he issued a statement making it clear it was vital legislation and he signed it despite his objections to some of its sections:
Today I have signed into law H.R. 4310, the "National Defense Authorization Act for Fiscal Year 2013." I have approved this annual defense authorization legislation, as I have in previous years, because it authorizes essential support for service members and their families, renews vital national security programs, and helps ensure that the United States will continue to have the strongest military in the world.

Even though I support the vast majority of the provisions contained in this Act, which is comprised of hundreds of sections spanning more than 680 pages of text, I do not agree with them all. Our Constitution does not afford the President the opportunity to approve or reject statutory sections one by one. I am empowered either to sign the bill, or reject it, as a whole. In this case, though I continue to oppose certain sections of the Act, the need to renew critical defense authorities and funding was too great to ignore.
Obama then detailed from of his objections, but they did not include the section relating to the Voice of America, Radio Free Europe/Radio Liberty.
The website for Foreign Policy Magazine did detail that aspect in an article titled "U.S. Repeals Propaganda Ban, Spreads Government-Made News to Americans."
For decades, a so-called anti-propaganda law prevented the U.S. government's mammoth broadcasting arm from delivering programming to American audiences. But on July 2, that came silently to an end with the implementation of a new reform passed in January. The result: an unleashing of thousands of hours per week of government-funded radio and TV programs for domestic U.S. consumption in a reform initially criticized as a green light for U.S. domestic propaganda efforts. So what just happened?

Until this month, a vast ocean of U.S. programming produced by the Broadcasting Board of Governors such as Voice of America, Radio Free Europe/Radio Liberty, and the Middle East Broadcasting Networks could only be viewed or listened to at broadcast quality in foreign countries. The programming varies in tone and quality, but its breadth is vast: It's viewed in more than 100 countries in 61 languages. The topics covered include human rights abuses in Iran, self-immolation in Tibet, human trafficking across Asia, and on-the-ground reporting in Egypt and Iraq.
It is clear the legislation had nothing to do with repealing a law relating to the news media publishing false information. It removed a limitation for U.S. government-generated content that was created to promote American values and interests in other countries. That is generally considered propaganda, but not necessarily fake news or lies. ForeignPolicy.com addressed this:
BBG spokeswoman Lynne Weil insists BBG is not a propaganda outlet, and its flagship services such as VOA "present fair and accurate news."

"They don't shy away from stories that don't shed the best light on the United States," she told The Cable. She pointed to the charters of VOA and RFE: "Our journalists provide what many people cannot get locally: uncensored news, responsible discussion, and open debate."

A former U.S. government source with knowledge of the BBG says the organization is no Pravda, but it does advance U.S. interests in more subtle ways.
Some articles and videos also claim a change in the Smith-Mundt Act in 2012 -- which they refer to as the "domestic propaganda law" -- triggered a series of mass shootings. Their rationale is that the federal government was unleashed to stage "false flag" shootings, including the Sandy Hook school attack, as "propaganda" to promote gun control. This conspiracy theory also requires that they conflate CNN reporting with goverment propaganda. This is one recent example:
The claim that HR 4310 was an Obama effort to give the private news media a license to lie is fake news, but then there is no law against that! Maybe we should say "This is why you cannot trust the memes!" As a fact-checking company for several years, Lead Stories can affirm that much of the inaccurate content comes from individuals who are not considered part of the media industry.
Congress cannot pass a law that limits the media's ability to publish truth or falsity, although citizens can sue a publisher for damages caused by libel or defamation. The First Amendment to the U.S. constitution, however, does not apply to the congressional power to limit the distribution of content created by a federal agency.

Amendment I

Congress shall make no law respecting an establishment of religion, or prohibiting the free exercise thereof; or abridging the freedom of speech, or of the press; or the right of the people peaceably to assemble, and to petition the government for a redress of grievances.
2019-08-20T14:50:16Z

2019-08-20T14:50:16Z

Updated 11aET, Aug 20, 2019 -- adding details of false flag conspiracy theory