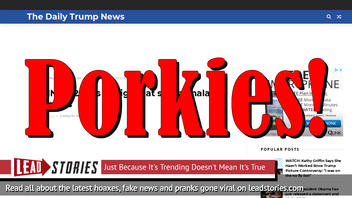 Were Muslims in China sold 22 tons of pig meat as halal? No, that's not true: a story to that effect is actually a mixture of two different events that happened years apart in two different locations in China. One story involved some pork being sold in one halal food shop, the other involved 20,000 kg (= 20 tons) of pork manipulated to look like beef, some of which (1,5 to 2 tons) was sold in a local market.
The story has been widely copy pasted by various sites but recently reappeared as an article published by The Daily Trump News on August 5, 2019 titled "CHINA: 22 tons of pig meat sold as halal to Muslims" (archived here) which opened:
In Shaanxi Province, Chinese police have discovered 22 tons of pork that was sold as certified halal (Islam-approved) beef. Muslims are forbidden from eating pork.

This case, once again, demonstrates the lack of seriousness of the halal industry in Asia.



FLASHBACK: The authorities already reported that 2 tons of the pork products were sold on the market marked as halal unbeknownst to the Muslim population.





Camouflage methods used by criminals are known by specialists: paraffin wax and industrial salts.





A man was outraged when he saw a halal food store in China had been selling pig's trotters, as a recently emerged video shows.





In the video, the customer, believed to be a Muslim, confronted the shopkeepers and demanded that they remove the braised pig's trotters at once.





The three female shopkeepers first claimed the pig's trotters were beef, then they argued that they had not known that pork is not allowed at a halal food store.





At the beginning of the video, the man can be heard telling the shopkeepers to close down their store.

.
Users on social media only saw this title, description and thumbnail:
. In Shaanxi Province, Chinese police have discovered 22 tons of pork that was sold as certified halal (Islam-approved) beef...
We cleaned up the text a bit to remove some extra characters that were likely introduced as a result of copy-pasting. The story itself mixes up two stories that did indeed happen in China years ago and then pretends it is all "news" that just happened recently. The first story was from 2016 and involved some pig meat being sold in a food store in China that supposedly sold "halal" food:
Shopkeepers told the angry man that they had not known pork is not halal Man pointed at a plate of pork and demanded that the shop in China shut The store claimed to be a part of a Chinese halal food franchise, Yi Sai Beef But the company said the shop was unlicensed and had taken down its sign A man was outraged when he saw a halal food store in China had been selling pig's trotters, as a recently emerged video shows.
The other story is much older and dates back to 2013 (it uses the same image as the hoax article):
Police have confiscated more than 20,000kg of "beef" from a factory in northwest China's Shaanxi province. The fake beef was found to be actually made from pork, which had been treated with chemicals such as paraffin wax and industrial salts ... Continue reading →
That story explained:
According to a report in Taiwan's Want China Times, the factory produced and sold between 1,500 to 2,000kg to local markets. It quoted police as saying the factory processed the pork at night and sold it as beef for between 25 and 33 yuan (between S$5.10 and S$6.70) per kilogram the next day.

Six other workshops were found to be producing the fake beef, and police have seized their meat as evidence.

News of this discovery is particularly notable given the fact that Xi'an, the capital of Shaanxi, has a large Muslim community, and some may have fallen victim to purchasing evidently non-Halal food.
The report does not mention that the meat was advertised or certified as halal and also does not say it was exclusively sold to Muslims (and it definitely does not say 22 tons were sold). The report from Want China Times it is based on also does not make any mention of these claims.
The events from the first story took place in Jiaozuo in China's Henan province and the second one happened in Xi'an, the capital of Shaanxi province. Those places are 291 miles apart if you drive.
We wrote about thedailytrumpnews.us before, here are our most recent articles that mention the site:
Over the years the exact same article appears to have been copy-pasted by various sites, including several ones that used to be part of a large network of Macedonian-run fake news sites that were shut down after a joint investigation by Lead Stories and Nieuwscheckers:
Back in November of 2018 fact checking sites Lead Stories and Nieuwscheckers collaborated to map a network of Macedonian fake news websites that had published thousands and thousands of articles since 2016, mostly stolen from other places, many of them fake and often promoting hate, racism or conspiracy theories.
Sites and networks like these generally seek to cash in on anti-muslim and anti-immigrant sentiments by endlessly reposting old (and oftent inaccurate) articles to attract visitors to click the ads on these sites. Ironically several of these networks are being run from places like Morocco and Pakistan where some "entrepreneurs" have found a way to cash in on the racism of the very people who hate them.