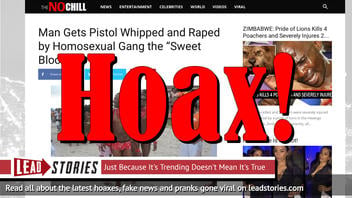 Was a man pistol whipped and raped by a homosexual gang known as the "Sweet Bloods" in Atlanta? No, that's not true: It is a false claim recycled by trash publishers over the past several years. Still, social media users continue to share the articles. There is no gay Atlanta gang known as the "Sweet Bloods."
The story appeared as early as 2016 an article but more recently in an article (archived here) published on April 13, 2018 under the title "Man Gets Pistol Whipped and Raped by Homosexual Gang the 'Sweet Bloods'". It opened:
THEY MAY BE GAY BUT THAT PISTOL MADE ME PAY, I GAVE UP MY MONEY, CREDIT CARDS AND MY @SS, THEY TIED ME UP, ROBBED ME AND F*CKED THE SH?T OUT ME, I HOPE THIS DON'T MEAN I'M GAY"

Said a shook up Fernando Muchins about his encounter with Gay Atlanta gang set the Sweet Bloods.

Police responded to the W hotel in downtown Atlanta where reports of a carjacking took place. Once they arrived they found a distraught Fernando Muchins laying on his stomach because he had been assaulted.

The sweet Bloods gang has been terrorizing the downtown Atlanta area for the last couple weeks with a string of robberies and carjackings.
This is what social media users saw:
While Atlanta does have street gangs, there is no record of a "Sweet Bloods" gang or an attack on a visitor to the city named Fernando Muchins. Another thing Atlanta does not have: a beach! There are several lakes with small sandy beaches in the suburbs, but none like the one depicted in the story.
We wrote about thenochill.com before, here are our most recent articles that mention the site: