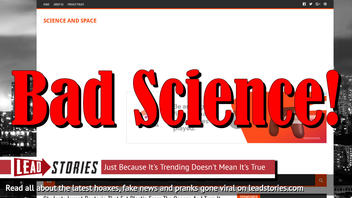 Did two high school students invent a bacteria that eats plastic from the ocean and turns it into water? No, that's not true: When
Miranda Wang and Jeanny Yao
were teen-aged high school students in 2012 they did identify a bacteria that breaks down compounds called phthalates, common to flexible plastics and linked to health problems. The strategy was later found to be infeasible for use in oceans. Their bacteria never was able to "eat plastics from the ocean and turn it into water." The young ladies turned their focus as college students to chemical methods.
Wang and Yao have since created a company
that is testing their new approach to recycling plastics, but that's ignored by a recent article posted by a network of sites that takes old science stories and adds inaccurate sensational details.
The false story originated from
an article
(archived
here
) published on May 22, 2019 under the title "Students Invent Bacteria That Eat Plastic From The Oceans And Turn It Into Water". It opened:
The high pollution in the oceans is a big problem on the planet. According to recent research, it is likely that in the year 2050 we will find more plastic than fish in the waters of the seas, and for this reason there are many people working to generate solutions to this problem, some very imaginative to reverse this situation.

Currently the novelty is a bacterium , developed by students Jeanny Yao and Miranda Wang , who have been developing this project since their school years and today reap the fruits of it. They already have patents and have obtained a financing of 400 thousand dollars to start developing the product. All this with only 20 years old.
They have already won 5 prizes thanks to this project, they became popular as they were the youngest to win the Perlman science prize . All thanks to its tiny bacteria capable of transforming plastic into CO2 and water. The technology is used in two ways: To clean the beaches and also to produce raw materials for clothing.
This is what social media users saw:
The misleading 2019 story gathered its details from reports in 2012, before it was known how useful the teens' bacteria might be:
The development of this technology is divided into two parts: First the plastic is dissolved and the enzymes as catalyze whereby the plastic becomes highly malleable fractions. These components are placed in a biodigester station , where they behave as if they were leftovers of food. The project runs in just 24 hours, to move from plastic to water, really promising.
Sadly, the bacteria "method later proved infeasible" in ridding our oceans of plastics, according to a story published on May 25, 2019, by a real news website. The article on SiliconValley.com, titled "San Jose's recycling pilot program with Silicon Valley startup in final phase," reported that Yao and Wang are making new breakthroughs on solving the plastics problem in another area:
After high school, Yao studied biochemistry and environmental sciences at the University of Toronto while Wang attended the University of Pennsylvania to study engineering entrepreneurship and biology. While still in college, the duo took to the TED stage to present an idea to break down plastic using microbes. But when that method later proved infeasible, they turned to chemistry.

The two developed a series of steps that use various chemicals to break down currently unrecyclable plastics. In 2015, Wang and Yao founded BioCellection at the age of 21. The firm turns film plastics, such as plastic bags, into compounds that can be used to make clothing, carpet and other consumer goods.
Two years later the firm began the pilot program with San Jose and GreenWaste. To move toward San Jose's long-term goal of producing "zero waste," city officials say, they're always looking for better ways to boost recycling through incentive programs, educational campaigns and public-private partnerships.
The real story of Yao and Wang is remarkable enough, but unfortunately there are people who know they can make money by twisting reality a bit to direct traffic to their websites.