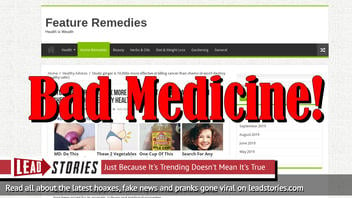 Does a scientific study conclude that ginger is 10,000 times more effective at killing cancer than chemotherapy? No, that's not true: It is a gross misrepresentation of research that involved using with a ginger extract on mice in a lab and certain types of cancer cells in a culture dish. The studies in 2009 and 2015 have not been replicated in human cancer patients and are not currently replacing chemotherapy as a treatment.
There are several versions of this misleading story, including an article (archived here) published by featureremedies.com on August 29, 2019 under the title "Study: ginger is 10,000x more effective at killing cancer than chemo (it won't destroy healthy cells!)". It opened:
Ginger has been used as both food and medicine for thousands of years.

Native to southeastern Asia, ginger has been a common ingredient in these parts of the world and has long been prized for its aromatic, culinary and medicinal properties.

This underground stem, which is used as both a spice and herb, is packed with active ingredients that play a variety of roles in your body and is still a popular remedy for motion and morning sickness.However, current research offers new hope for cancer patients.

Ginger has helped many a cancer patient fend off nausea and inflammation during treatment. Now it appears it can do even more.
This is what social media users saw:
Before we outline the problems with these false reports, let's share some good news about ginger. It is believed helpful for a lot of ailments. This is the best authorative summary of the benefits of ginger from a source we find credible, Susan G. Komen -- the world's largest breast cancer organization. The organization devotes a page to answering questions about the benefits of ginger:
Ginger is commonly used for various types of "stomach problems," including motion sickness, morning sickness, colic, upset stomach, gas, diarrhea, irritable bowel syndrome (IBS), nausea, nausea caused by cancer treatment, nausea caused by HIV/AIDS treatment, nausea and vomiting after surgery, as well as loss of appetite.
The extensive lists of ginger's health benefits on the page of the leading cancer-fighting group does NOT mention ginger as a cancer fighter.
The first version of the story we are debunking references a 2009 study conducted by Georgia State University titled "Benefits of whole ginger extract in prostate cancer." This is the main conclusion:
Here, we show that whole ginger extract (GE) exerts significant growth-inhibitory and death-inductory effects in a spectrum of prostate cancer cells. Comprehensive studies have confirmed that GE perturbed cell-cycle progression, impaired reproductive capacity, modulated cell-cycle and apoptosis regulatory molecules and induced a caspase-driven, mitochondrially mediated apoptosis in human prostate cancer cells. Remarkably, daily oral feeding of 100 mg/kg body weight of GE inhibited growth and progression of PC-3 xenografts by approximately 56% in nude mice, as shown by measurements of tumour volume. Tumour tissue from GE-treated mice showed reduced proliferation index and widespread apoptosis compared with controls, as determined by immunoblotting and immunohistochemical methods. Most importantly, GE did not exert any detectable toxicity in normal, rapidly dividing tissues such as gut and bone marrow. To the best of our knowledge, this is the first report to demonstrate the in vitro and in vivo anticancer activity of whole GE for the management of prostate cancer.
This is how the featureremedies.com article interpreted that scientific summary:
At George State, the researchers found that ginger extract shrunk prostate tumors in mice by 56%, while reducing inflammation and providing anti-oxidants.
The study never said anything about the tumors shrinking. The daily doses of the ginger extract "inhibited growth and progression" by about 56%. The tumors still grew, just only about half as much, the researchers said.
What about that remarkable claim in the headline that the study concluded "ginger is 10,000x more effective at killing cancer than chemo"? There is NOTHING in this version of the story -- or the Georgia State University study -- relating to this. We did find other stories with the same claim that referenced a 2015 study that did a comparison of ginger and one form of chemo.
One of these stories was published on August 27, 2019 and is titled "Ginger: 10,000x Stronger Than Chemo (Taxol) in Cancer Research Model." It opened:
A provocative study reveals ginger contains a pungent compound that could be up to 10,000 times more effective than conventional chemotherapy in targeting the cancer stem cells at the root of cancer malignancy
This story avoids being rated as false because the author is careful to explain that the "10,000 times more effective" conclusion is limited to research in a lab culture compared to one chemotherapy type -- Taxol -- and only against a certain form of cancer stem cell. The referenced study completed, in 2015 and funded by the Indian government, is titled "6-Shogaol Inhibits Breast Cancer Cells and Stem Cell-Like Spheroids by Modulation of Notch Signaling Pathway and Induction of Autophagic Cell Death." This is from the study's discussion about the "10,000 times" reference (note that 6-shogaol is the derivative of ginger used):
The results showed that for both the cell types, 6-shogaol was effective in spheroids at concentrations that were 5 or 2 fold higher than the effective inhibitory concentrations in monolayer cells. In contrast, taxol, even though was highly active in monolayer cells, did not show activity against the spheroids even at 10000 fold higher concentration compared to 6-shogaol (Table 1). Curcumin was also found to be effective against MCF-7 spheroids as reported earlier [14]. The results also showed that 6-shogaol was ~3 fold more potent against MDA-MB-231 spheroids than against MCF-7 spheroids. The inhibitory effect of all the three compounds on non-cancerous cell lines, HEK 293 and HaCaT were also tested (Table 1). The IC50 data showed that the noncancerous cells tolerated significantly higher doses of 6-shogaol compared to the cancer cells in both monolayer and spheroid culture conditions. Non-cancerous cells were quite resistant to taxol when compared with its efficacy in the monolayer breast cancer cells. In contrast, curcumin did not exhibit any resistance to noncancerous cells as compared to its action on breast cancer cells and spheroids. Thus the action of 6-shogaol on breast cancer spheroids is superior to taxol or curcumin considering the fact that it inhibits spheroids at concentrations which are safe to non cancerous cells.

Researchers do not say 6-shogaol is 10,000 times more effective that Taxol. They say Taxol "did not show activity against" those particular cells even when they used a 10,000 higher concentration. Big difference.
The most important problem with these headlines claiming that ginger kills cancer better than chemo is that there are no approved ginger therapies being used now instead of chemo. The 2009 study tested mice, not people, and it was not 10,000 times better than chemo. The rats' tumors continued to grow. The 2015 study was on cells in a dish, not a body. There is only a hope that some day, some way, a therapy could be developed to save lives with a ginger extract. That is not what these researchers did.