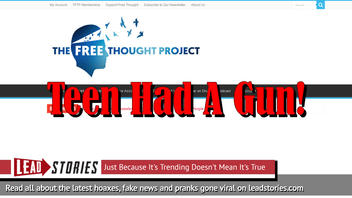 Did a cop chase down a teen, shoot him twice in the head over a stop for a bicycle light -- and then face no charges? No, that's not true: While Mount Pleasant, Wisconsin, Police Sgt. Eric Giese did intially try to stop Tyrese West because his bike did not have a required light at 1:30 a.m. on the morning of June 15, 2019, the shooting happened as 18-year-old West was reaching for his gun after a chase and struggle with Sgt. Giese, according to the investigative report.
The story originated from an article (archived here) where it was published by The Free Thought Project on October 1, 2019 under the title "Cop Chases Down Teen, Shoots Him Twice in the Head Over Stop for a Bicycle Light--NO Charges". It opened:
In the land of the free, police can and will detain and extort you for improper bicycle lighting. If you try to escape this extortion, you can be mowed down by a police cruiser, mauled by a police K9, or, as the following incident illustrates, you can be shot in the head and killed. What's more, the officer who does attempt to maim or kill you will almost never be held accountable as they are just doing their job.

Ty'Rese West, 18, was shot and killed by Mount Pleasant Police Sgt. Eric Giese in June over this very matter. West had not harmed anyone and was merely targeted for extortion by Giese because he didn't have a light on his bicycle while riding at night. Because he was shot in the head and killed, we will never know why West decided to run that night, but he likely didn't want to be extorted, kidnapped, or hurt. Sadly, this is what led to his death.
This is what social media users saw:
This misleadind story was published soon after the release of two investigative reports -- the first 23-pages and the second 170-page -- that detailed the fatal incident, but the article ignores the findings:
Last Week, Racine County District Attorney Patricia Hanson announced that Giese was justified when he shot West in the head twice, claiming he acted in self-defense.

Hanson determined that "Sergeant Giese's actions in this case fall under the privilege of self-defense," and as such, "no charges will be filed against Sergeant Giese in this case," Racine police, who led this investigation, said in a statement.

How, exactly, a police officer -- who was the aggressor as he initiated the stop for extortion -- is able to claim self-defense when he was the one who chased down the person who was running from him, is a mystery. Unfortunately, however, it is par for the course.
It would not be a mystery if the writer had included the reports findings in the story. A local newspaper, the Journal Sentinel, did share what Racine County District Attorney Patricia Hanson said in the report announcing she would not be charging Sgt. Giese with a crime:
"His actions put Sergeant Giese at a disadvantage that he could not overcome by other means," Hanson said in an earlier 23-page report that had provided the most information yet on the circumstances surrounding the shooting.

In that report, Hanson described the following: Giese in his squad car tried to stop West, who was riding a bike about 1:30 a.m. West, who was armed, did not stop, and a chase ensued - the two ended up ditching the squad and bike and running on foot.

Giese believes that West threw the gun and fell to the ground near a fence in a field. Giese stood over him and stepped on West's hand to try to stop the teen from reaching the gun on the ground. Eventually West wriggled free and had access to his gun, prompting Giese to shoot West three times.
The D.A.'s report also revealed that West had a run-in with police hours earlier when he was in a stolen car chased by police, although Sgt. Giese was unaware he was the same suspect when he tried to talk to him about the missing bike light.
Lead Stories flagged this story because it used a tragic event -- the death of a young man -- to generate web traffic by misrepresenting the known facts. This subheadline was especially misleading, suggesting that the teen was "executed" because he dared to ride a bike at night without a light:
A teen was targeted for extortion because he did not have a light on his bicycle, moments later, he'd be executed with two bullets to the head.
NewsGuard, a company that uses trained journalist to rank the reliability of websites, describes thefreethoughtproject.com as:
A site whose stated mission is "to foster the creation and expansion of liberty minded solutions to modern day tyrannical oppression." The site has repeatedly published misleading information and headlines.
According to NewsGuard the site does not maintain basic standards of accuracy and accountability. Read their full assessment here.
We wrote about thefreethoughtproject.com before, here are our most recent articles that mention the site: