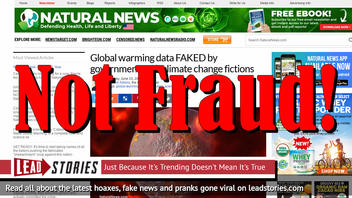 Was global warming data faked by the U.S. government to fit climate change fictions? No, that's not true: When scientists with NOAA (National Oceanic and Atmospheric Administration) modernized the way daily temperatures recorded in every nook and cranny of the United States were charted, it triggered cries of fraud and conspiracy by those who argue global warming is a hoax. Changes in many locations of where temperatures were taken and the technology used to record it over the past century required a careful revision so that recent data could be compared to the historical data. Many of those measurement locations had become urbanized, which meant that city heat sources had to be taken into account. The shft in the time of day official temps were taken -- from evening in the early half of the 20th century to mornings in later years -- also required revisions. Ocean temps are more likely now to be measured by floating bouys and not ships at sea, which also required a re-calibration. The revised historical charts were not a faking of data, but adjustments to make them more accurate for comparison with new data.
The claim of fraud originated from an article (archived here) where it was published by NaturalNews.com on June 23, 2014, under the title "Global warming data FAKED by government to fit climate change fictions". It opened:
When drug companies are caught faking clinical trial data, no one is surprised anymore. When vaccine manufacturers spike their human trial samples with animal antibodies to make sure their vaccines appear to work, we all just figure that's how they do business: lying, cheating, deceiving and violating the law.

Now, in what might be the largest scientific fraud ever uncovered, NASA and the NOAA have been caught red-handed altering historical temperature data to produce a "climate change narrative" that defies reality. This finding, originally documented on the Real Science website, is detailed here.

We now know that historical temperature data for the continental United States were deliberately altered by NASA and NOAA scientists in a politically-motivated attempt to rewrite history and claim global warming is causing U.S. temperatures to trend upward. The data actually show that we are in a cooling trend, not a warming trend (see charts below).
This is what social media users saw:
The 2014 story alleged that the fraud happened when President Obama's administration pressured government scientists to cook the books to support their climate change hoax:
After the Obama administration took office, however, and started pushing the global warming narrative for political purposes, NASA was directed to alter its historical data in order to reverse the cooling trend and show a warming trend instead. This was accomplished using climate-modeling computers that simply fabricated the data the researchers wished to see instead of what was actually happening in the real world.

Using the exact same data found in the chart shown above (with a few years of additional data after 2000), NASA managed to misleadingly distort the chart to depict the appearance of global warming:
This conspiracy theory was an easy sale to readers who were extremely distrustful of the Obama administration, federal scientists and anyone who argued that the world was warming up and dramatic changes were necessary to save humanity. Five years after it was published, this story is still getting viral traction on social platforms.
The conservative news website The Daily Caller (which is also a 3rd-party fact checker for Facebook) looked at the controversy of the revisions in 2014 in an article titled "NOAA Reinstates July 1936 As The Hottest Month On Record". It included an explanation from Deke Arndt, the chief of NOAA's Climate Monitoring Branch:
"Many station observations that were confined to paper, especially from early in the 20th century, have been scanned and keyed and are now digitally available to inform these time series," Deke Arndt, chief of NOAA's Climate Monitoring Branch, told TheDCNF.

"In addition to the much larger number of stations available, the U.S. temperature time series is now informed by an improved suite of quality assurance algorithms than it was in the late 20th Century," Deke said in an emailed statement.
In a recent email to Lead Stories, Arndt said the national temperature was switched to a "more comprehensive grid, informed by many more stations:"
Data are adjusted to correct for non-climate biases like station siting, instrumentation, and so on. The largest factor, on average, are changes in the time of observation: the US was a nation of evening observers in the first part of the 20th century but is now a nation of morning observers. This adjustment is necessary because morning observers can "double count" low temperatures (a very cold morning can be the lowest temperature for the preceding and subsequent day), and evening observers can "double count" very hot afternoons (a very hot afternoon can be the highest temperature for the preceding and subsequent day).
There are several scientific reviews and research letters online that offer detailed explanations of the changes and why there were necessary and accurate. Before you challenge our conclusions, we ask that you read "Evaluating the impact of U.S. Historical Climatology Network homogenization using the U.S. Climate Reference Network" from 2016. It studied the transition from the old system -- the now-decommissioned U.S. Historical Climatology Network (USHCN) -- and the new system -- U.S. Climate Reference Network (USCRN):
During the period of overlap between the USHCN and USCRN networks, we can confidently conclude that the adjustments to the USHCN station records made them more similar to proximate homogenous USCRN station records, both in terms of trends and anomalies. There are no systematic trend biases introduced by adjustments during this period; if anything adjusted USHCN stations still underestimate maximum (and mean) temperature trends relative to USCRN stations. This residual maximum temperature bias warrants additional research to determine the exact cause.
NewsGuard, a company that uses trained journalist to rank the reliability of websites, describes naturalnews.com as:
A network of sites promoting both medical and non-medical conspiracy theories, particularly the false claim that vaccines are linked to autism.
According to NewsGuard the site does not maintain basic standards of accuracy and accountability. Read their full assessment here.
We wrote about naturalnews.com before, here are our most recent articles that mention the site: