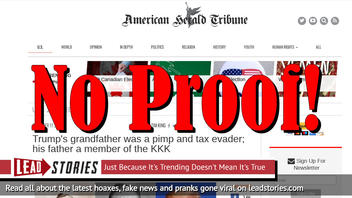 Was Donald Trump's grandfather a pimp and tax evader, and was his father a member of the Ku Klux Klan? No, there is no proof: Donald's Trump's paternal grandfather Frederick Trump accumulated his initial wealth by owning restaurants and hotels in Seattle and the Yukon in his first decades after immigrating from Germany to the United States. While Gwenda Blair writes in her book "Trumps: Three Generations That Built an Empire" that the elder Trump's businesses apparently hosted prostitution, Blair also said "I wouldn't call him a pimp." Trump's father Fred Trump was detained at a KKK protest in the Queens borough of New York City, but he was released without charges, according to a New York Times clipping from June 1927. The report did not say he was a member of the KKK and there is no evidence otherwise that he was in the group. As for tax evasion by the grandfather, the article in question offers no details or sourcing.
The story originated from an article (archived here) where it was published by American Herald Tribune on October 11, 2015, under the title "Trump's grandfather was a pimp and tax evader; his father a member of the KKK". It opened:
Most families of enormous wealth have a dark and sometimes scandalous, even monstrous past. Donald Trump's clan is no exception to that rule. His grandfather was a pimp and a tax evader, his father a racist who would in the course of his life, clash with New York City Police as a member of the Ku Klux Klan and then as a wealthy real estate magnate, refuse to rent to people of color.

Donald Trump's legacy is anything but a rag to riches story. His dad kicked the bucket with $250-$300 million in the bank. The man who wants to ban all people of a particular religion from travel wasn't born with a silver spoon in his mouth, his was white gold. The only thing more obnoxious than Donald Trump himself, is his family's money-grubbing, bigoted history.
This is what social media users saw:
This article chronicles the life of Frederick Trump, who immigrated to the United States from Germany at age 16:
Trump's grandfather was born in Germany, to parents who were employed by a vineyard. He moved to New York City in 1885 where he became a barber. After six years of this, Frederick Trump moved across the United States to Seattle, Washington, where he owned and operated what he referred to as a "decadent restaurant" that was actually called "Poodle Dog" in Seattle's red light district. Interestingly, the name and concept that had already been established in San Francisco. (He named his restaurant after a dog but would later make money selling horse meat) Around this time Frederick Trump became a US citizen.
The AHTribune.com story draws directly from Blair's book for details about the restaurant and hotel Trump co-owned in Canada during the Yukon gold rush:
A Yukon Sun Newspaper writer described his business: "For single men the Arctic has excellent accommodations as well as the best restaurant in Bennett, but I would not advise respectable women to go there to sleep as they are liable to hear that which would be repugnant to their feelings - and uttered, too, by the depraved of their own sex".
But Blair rejected the "pimp" label for Trump in an interview with the CBC:
Trump acted as cook, bouncer, waiter.

But Blair cautions: "I wouldn't call him a pimp."

She said backroom ribaldry was part of the restaurant package in those towns, and it's not clear how the arrangement worked: "As somebody trying to attract business to his restaurant, of course he would have liquor. Of course he would arrange easy access to women. A pimp is, I think, a different business model."
Frederick Trump eventually made his way to New York City (after an aborted effort to resettle in Germany) with a nest egg estimated at more than a half-million dollars in current dollars, Blair wrote. He died during the Spanish flu epidemic in 1918, leaving behind some real estate to be managed by his young son Fred Trump, Donald's father.
The misleading article support's its claim that Fred Trump was "a member of the KKK" soley with a small newspaper article published by the New York Times in June 1927, after a clash between an estimated 1,000 klansmen and police. The clipping was first reported by the news website BoingBoing.net in September 2015 in an article titled "1927 news report: Donald Trump's dad arrested in KKK brawl with cops."
According to a New York Times article published in June 1927, a man with the name and address of Donald Trump's father was arraigned after Klan members attacked cops in Queens, N.Y.

In an article subtitled "Klan assails policeman", Fred Trump is named among those taken in during a late May "battle" in which "1,000 Klansmen and 100 policemen staged a free-for-all." At least two officers were hurt during the event, after which the Klan's activities were denounced by the city's Police Commissioner, Joseph A. Warren.

"The Klan not only wore gowns, but had hoods over their faces almost completely hiding their identity," Warren was quoted as saying in the article, which goes on to identify seven men "arrested in the near-riot of the parade."
This is the New York Times article as published in the BoingBoing.net report: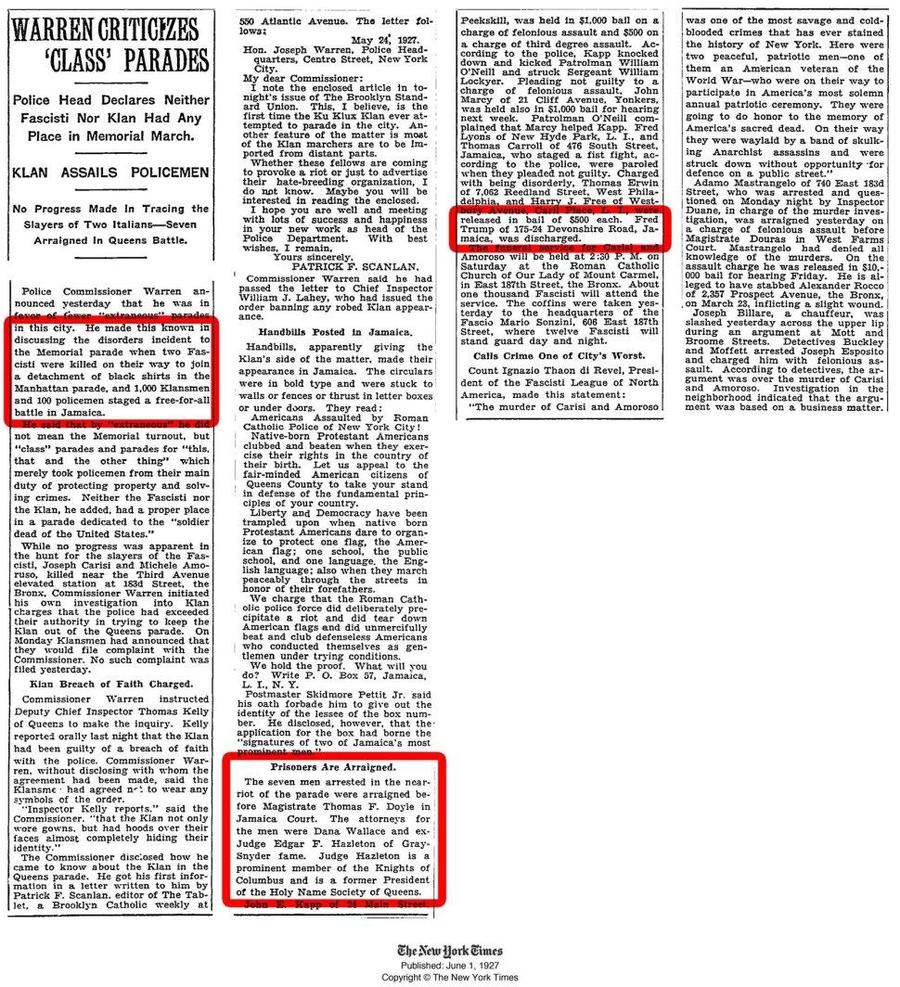 The BoingBoing.net report makes it clear that the clipping is not proof Fred Trump was a KKK member:
This is not proof that Trump senior, who would later go on to become a millionaire real estate developer, was a member of the Ku Klux Klan or even in attendance at the event. Despite sharing lawyers with the other men, it's conceivable that he may have been an innocent bystander, falsely named, or otherwise the victim of mistaken identity during or following a chaotic event.