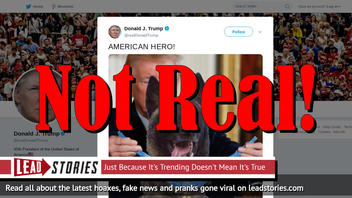 Did President Donald Trump award a special K-9 version of the Medal of Honor to the military dog who chased ISIS leader Abu Bakr al-Baghdadi down a dead end tunnel? No, that's not true: A photo tweeted by President Trump of him placing a medallion around the neck of the Belgian Malinois is a photo-shopped image shared by a conservative news website. The image appeared to be a suggestion to the president that he should actually honor the animal. The dog, whose name is officially classified, was wounded when the ISIS leader detonated his suicide vest as he was being chased.
The image was first tweeted (and apparently created) by DailyWire.com, and was retweeted (archived here) by President Trump on October 30, 2019 under the title "AMERICAN HERO!" The image included a bue ribbon identical to the Medal of Honor presented to service members for heroism, but the medallion featured a dog's paw.
This is what social media users saw:
AMERICAN HERO! pic.twitter.com/XCCa2sGfsZ

-- Donald J. Trump (@realDonaldTrump) October 30, 2019
This is the original tweet posted by The Daily Wire website with the message "Please, @realDonaldTrump."
Please, @realDonaldTrump. pic.twitter.com/nYSJSGlJ8L

-- The Daily Wire (@realDailyWire) October 29, 2019
While as of October 30, 2019, the president has not invited the dog to visit the White House, it would likely be an invitation widely applauded. The dog has been hailed as a hero since President Trump revealed details of its role in the killing of the ISIS leader on October 26, 2019.
The military has officially classified the dog's name and sex, although NewsWeek.com reported it is a named Conan.
We wrote about twitter.com before, here are our most recent articles that mention the site: