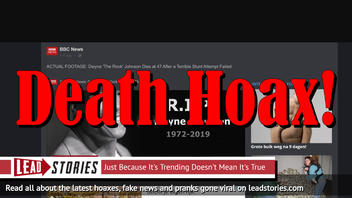 Did actor Dwayne "The Rock" Johnson die aged 47 after a terrible stunt attempt failed? And was this reported by the BBC? No, that's not true: a gang of hoaxers from the Philipines is at it again with a technically sophisticated death hoax website that causes multiple versions of the hoax story to spread simultaneously on Facebook by tricking visitors into sharing multiple different links on their Facebook profile that ultimately all go to the same hoax website.
An example of the hoax can be seen here (sceenshot here) where it was published somewhere in November 2019. The site showed a BBC News logo and promised:
ACTUAL FOOTAGE: Dwyne 'The Rock' Johnson Dies at 47 After a Terrible Stunt Attempt Failed.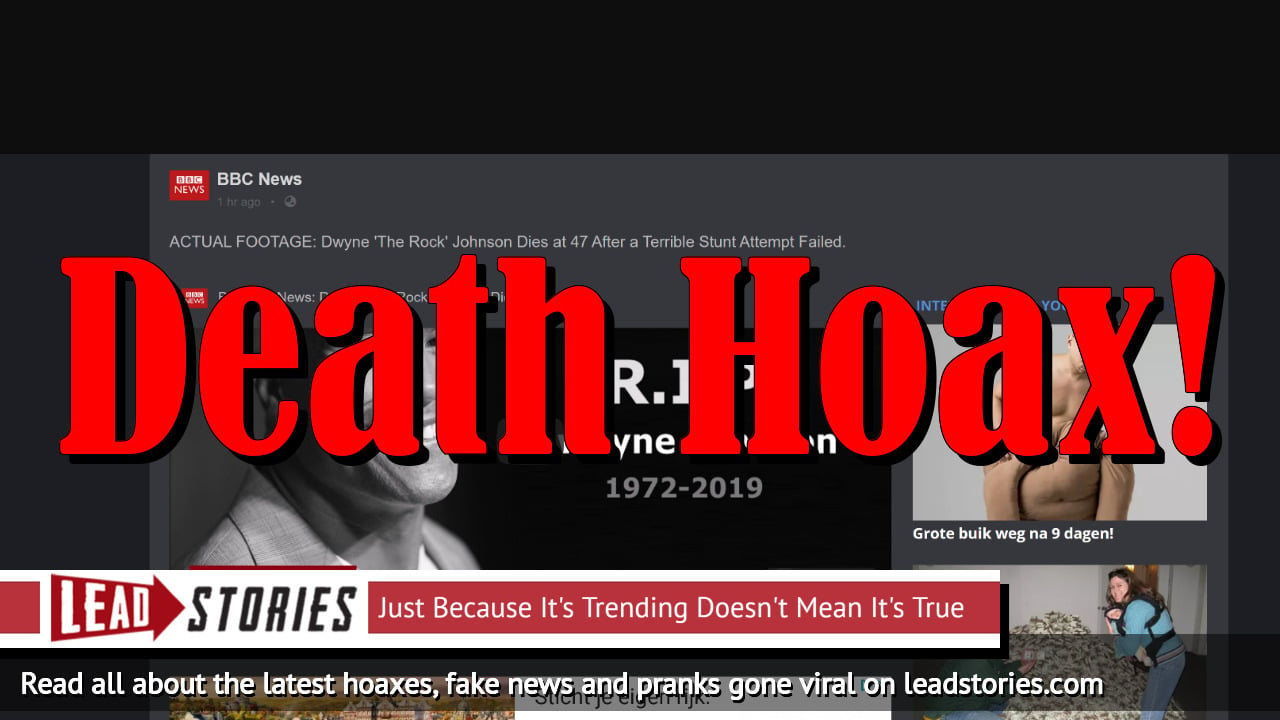 Below that message there was a video player with this embedded YouTube video hosted on a YouTube channel named "Pinoy Trends" that seems to be used for several other similar hoaxes:
Here is an archived copy of the video:
On the actual site the video would stop playing after a few seconds and a content warning overlay would appear that would read:
Warning: This video may show graphic content (18+)
Share to continue watching.
Clicking it would bring up a share dialog that would share one of several dozen possible links to the user's Facebook timeline. Sharing would not reveal the rest of the video, which consisted of a short song and several pictures of a hand giving the viewer the finger, followed by several seconds of the title card of the video.
The hoax follows the same technical structure as the recent Clint Eastwood death hoax and it is quite likely the same people are behind it again. So far we observed following domain names being used by the hoaxers, with hundreds of different links being spread that all redirect to the same video and forced sharing page:
bbc.international-news-network.com
breaking.news-on-socialmedia.com
breaking.news-trending.com
dailynews.i-witnesstv.com
foxnews.i-witnesstv.com
news.br0adcastinglive.com
news.livebr0adcast.com
news.live-br0adcast.com
news.livebr0adcast1.com
news.onlinebr0adcasting.com
t0pnews.livebr0adcast.com
todays.flashvines.com
trendingnews.health-facts-101.com
trendy.flashsc00p.com
wwfnews.network-tv.info
Oh, and the actual BBC made no mention of Mr. Johnson's death as you can see for yourself here.