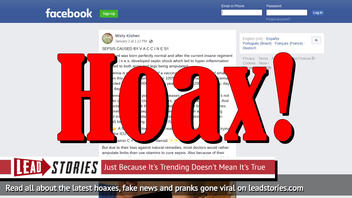 Did a two-year-old boy lose his arms and legs because of septic shock caused by vaccines? No, that's not true: the photo being associated with anti-vaccination posts on social media is really of Jeremiah Cox, who developed a severe bacterial infection and went into septic shock before having his limbs amputated to save his life.
The story originated from a post (archived here) where it was published by Facebook user Misty Kishen on January 2, 2020, under the title "SEPSIS CAUSED BY VACCINES". It opened:
"This infant was born perfectly normal and after the current insane regiment of v a c c i n e s, developed septic shock which led to hyper-inflammation which led to both arms and legs being amputated.

Septicemia is primarily a result of a vaccination, but in babies and small children this blood poisoning is near 100% from vaccinations. Septicemia is contracted by over 75,000 children a year in the US, 200+ every day; day in and day out!

You cannot inject toxic poisons and diseases info babies and think it's not going to cause myriad chronic disorders, destroyed health and lives. And yet, doctors don't admit that they caused this damage by their vaccines."
Users on social media only saw this title, description and thumbnail:
The photo in the post was stolen from a Daily Mail story from October 30, 2018. An unidentified infection caused Jeremiah to first go into septic shock and then into purpura, which is a condition where blood vessels break under the skin and cause purple bruising. Doctors had to amputate Cox's arms and legs to prevent the infection from spreading, which saved his life.
The Facebook post claims that sepsis in infants is caused "near 100% by vaccines," but according to Children's Health - the eighth largest pediatric health provider in the country and an academic pediatric hospital in Dallas, Texas - sepsis that affects newborns is nearly always caused by bacteria in the blood, which can be contracted from the external environment.
"Common culprits include group B streptococcus (GBS), Escherichia coli (E. coli), Listeria monocytogenes, Neisseria meningitis, Streptococcus pneumoniae, Haemophilus influenzae type B and salmonella."
Additionally, according to the federal Centers for Disease Control and Prevention (CDC), when a child is born, their immune sytem has not yet developed immunity to diseases. Their ability to fight off bacteria they find in their environment is relatively weak compared to an adult or even an older child. That's often why vaccines are given in childhood: to create immunity in children before they ever come in contact with deadly diseases.
Being exposed to serious infections without immunity can increase the likelihood of sepsis in children, according to the CDC.
The same photo of Jeremiah has been recycled and pasted in other posts, especially on Facebook where the information has a tendency to be reshared and spread. But the photo of the young child, and the real story of his recovery, is unrelated to vaccines.