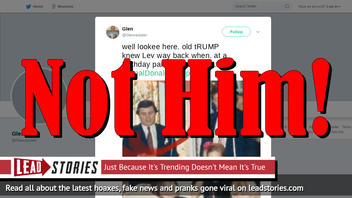 Did Lev Parnas attend Eric Trump's birthday party in 1990? No, that's not true: The man featured in the photo, which is almost 30 years old, could not be Lev Parnas, the business associate of President Trump's attorney Rudy Giuliani. The tweet is being shared to suggest that Trump, who has denied ever meeting Parnas, knew him "way back when."
The claim originated from a post published by @Glenresister on January 19, 2020, (archived here). It opened:
well lookee here. old tRUMP knew Lev way back when. at a Birthday party for Lev`s kid. [email protected]
Users on social media only saw this title, description and thumbnail:
"well lookee here. old tRUMP knew Lev way back when. at a Birthday party for Lev`s kid. [email protected]"
Parnas was born in 1972, according to The New Yorker, which would make him 18 in the photograph, and the man shown standing next to Trump is clearly older than that.
The same New Yorker profile mentioned that Parnas was involved with the Trump Organization when he was a teenager:
When Parnas was sixteen, he worked at Kings Highway Realty, selling Trump Organization co-ops.
However, the article also pointed out that even Parnas acknowledged he only met Trump less than three years ago:
Parnas told me that he "bumped into" Trump "plenty of times" at events in New York over the years, but that they didn't get to know each other until the 2016 campaign.
The source of the photo in the tweet is an ABC News story that included a picture shared by Ivana Trump, who was married to President Trump from 1977 to 1992. It showed the couple's son, Eric, celebrating his sixth birthday in 1990. The caption did not identify the man standing next to Trump, but it could not be Lev Parnas.
Trump has repeatedly denied knowing Parnas, who claimed on MSNBC's Rachel Maddow Show on January 15, 2020, that Trump was fully aware of efforts to urge Ukraine to investigate former Vice President Joe Biden to boost his re-election chances. On December 18, 2019, the U.S. House of Representatives impeached the president (mainly along party lines) for abuse of power and obstruction of Congress related to the Ukraine affair.
As of this writing, the original poster's Twitter account has been temporarily restricted.
We wrote about fake news on Twitter before. Here are our most recent articles that mention the site: