STORY UPDATED: check for updates below.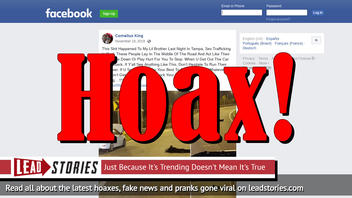 Did a sex trafficker lie on the road to act like their car broke down before attacking motorists who stopped to help? No, that's not true: The Hillsborough County Sheriff in Tampa, Florida, said the story is a hoax, but the viral post continues to spread online.
The claim originated from a post (archived here) published by Facebook user Cornelius King on November 19, 2019. It opened:
This Shit Happened To My Lil Brother Last Night In Tampa, Sex Trafficking Is Real, These People Lay In The Middle Of The Road And Act Like Their Car Broke Down Or Play Hurt For You To Stop. When U Get Out The Car They Attack. If Y'all See Anything Like This, Don't Hesitate To Run Their Ass Over. If U Scared Then Try Your Best To Go Around, But Whatever You Do, Don't Get Out Of Your Car, Lock Your Doors And Keep It Moving....!!!!!!!!!!!
#ProtectYourKids #AllGasNoBreaks
Users on social media saw this: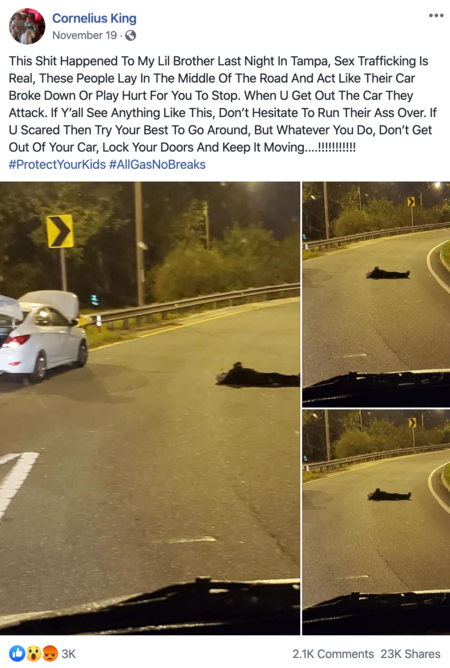 The post has gained thousands of comments, shares, and engagements. King claims his younger brother witnessed the incident in Tampa, Florida.
The Tampa Bay Times has also debunked the story, reporting:
The Hillsborough County Sheriff's Office and Tampa Police are both aware of the viral post, but neither department has heard of people feigning injury in the streets to ambush concerned passersby.
The post begs several questions: how did the person who photographed the alleged incident know the person in the middle of the road was a sex trafficker? Was the photographer King's younger brother? If the victim of the thwarted attack was able to photograph the incident - and get away to tell the story - wouldn't he or she have filed a police report?
The post encourages other motorists to "Don't Hesitate To Run Their Ass Over." In other words, the user is advocating that other people commit a crime.
Lead Stories attempted to reach out to King, who posted the photos and made the claim, but did not receive a reply by the time this was published.
2020-01-23T21:07:57Z

2020-01-23T21:07:57Z

Update: After this story was published, the Facebook post was removed. We have updated the story to include a screenshot of the original post.